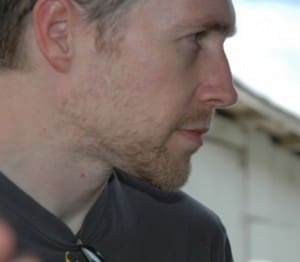 Tell us about yourself and how many books you have written.
I currently reside in Iowa City, Iowa—one of only 7 places in the world the UNESCO has certified as a "City of Literature." Like most authors, I have been writing for years but only recently found myself in print. MORTOM is my first published work, but the fourth novel I have completed.
What is the name of your latest book and what inspired it?
MORTOM is loosely based on the town of Farmington, Iowa, where my father grew up. I've always been intrigued by small towns: It has to be incredibly difficult to hide anything within a tiny population, but at the same time, small towns seem to hold the most secrets. It's a fascinating dynamic.
Do you have any unusual writing habits?
Mountain Dew, a dark room, and loud music are a necessity. Outside of that, inspiration is always welcome, but not always present…
What authors, or books have influenced you?
I often comment I learned to write by "reading Stephen King," which is ironic, because none of my novels are horror. MORTOM has "elements" of horror, but for the most part, it's a straightforward mystery. Outside of King, two of my current favorite authors are Alden Bell (The Reapers are the Angels) and Daniel Woodrell (Winter's Bone). I wish I could write half as well as those gentleman.
What are you working on now?
I'm currently going back and forth between two projects—both YA. Many people have asked for a sequel to MORTOM, so I've been toying with that idea as well.
What is your best method or website when it comes to promoting your books?
Facebook and word-of-mouth have been a huge help. I've done everything from hang flyers to advertise on craigslist. A key component has been availability: In addition to Amazon.com, MORTOM is also available at local bookstores, multiple libraries, and a sample is downloadable on Goodreads. Advertising on writing websites has also worked well, but it can get pricey at times.
Do you have any advice for new authors?
Never give up. Anything can happen one day to the next. A few months ago I had an agent tell me to write more like Gillian Flynn, and two weeks later Gillian Flynn's agency requested the entire manuscript. The world of publishing is a crazy, subjective creature.
What is the best advice you have ever heard?
Writing is 90% rewriting. If you're not prepared to live with your story for years, a 'life of writing' is probably not a good fit.
What are you reading now?
I just finished THIS IS MINE: MY STORY, MY LIFE (Malinda Phillips) which is an eye-opening account of foster care in America today. Highly recommend. I am currently reading Stephen King's DOCTOR SLEEP and loving it.
What's next for you as a writer?
Continue to promote MORTOM and focus on the next book, whatever it may be. I'm also putting the finishing touches on www.eriktherme.com and look forward to feedback from fans and friends.
If you were going to be stranded on a desert island and allowed to take 3 or 4 books with you what books would you bring?
Catcher in the Rye
The Stand (uncut)
A Simple Plan
I Am Legend
Author Websites and Profiles
Erik Therme Website
Erik Therme Amazon Profile
Erik Therme Author Profile on Smashwords
Erik Therme's Social Media Links
Goodreads Profile
Facebook Profile
Twitter Account