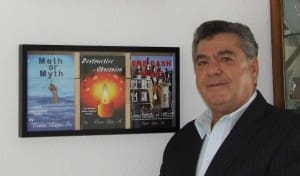 Tell us about yourself and how many books you have written.
I am a retired deep cover Detective and operative. During my career as a detective, I've worked with many federal, local and State Police agencies. My name is Ernie Lijoi Sr., Italian born, raised in Brooklyn, N.Y., Air Force Veteran and graduate of Northeastern University in Boston, Massachusetts.
I began writing at age 65, after retirement. Now at 69, I have several books published, "Street Business" "Meth or Myth", "The Cash Mule", "Destructive Obsession", "The Preyers", "The Butcher of Boston", "The Tunnel" and more with several short stories and many poems.
I have several other books committed for publication, but I am holding them for movie projects, some of the names are "The Preyers", "Delicious Poisons" and "The Green Tide" with more to come.
As of this date I have been able to develop a movie script, business plan and budget from my work on a book named "The Preyers."
We have several other books that will make great movies; all are based on factual incidents.
My current position is executive producer for The Preyers and we are in the funding stage with a tremendous amount of interest in this project. http://www.thepreyers.com
"The Preyers"….. Log-line:
In New York is the Joey Bats Borgazino family. In Massachusetts is Detective Ernie Lijoi Sr., when multiple murders' connect these adversaries the explosion occurs……. (An Eddie Pannoni Thriller—"THE PREYERS")
Our new Movie site is up and ready for viewing
http://www.thepreyers.com
We are in the funding stage of this project.
More Info on all of my books at: Http://www.erniesr.com
What is the name of your latest book and what inspired it?
My latest book:
THE BUTHCHER OF BOSTON
The Butcher of Boston
~~The Butcer of Boston~~
The Butcher of Boston did in fact exist in the 1980s, in Boston and Quincy Massachusetts. The villain was a person that took joy and sexual satisfaction from stabbing people as he ran along a jogging area in the those cities.
This is a fictional glimpse into the life and experiences of Detective Ernie Lijoi Sr. who during his career as a DCI agent under the guise of Eddie Pannoni, drug dealer and gun runner encountered numerous investigations from narcotics to murder. Read about the exploits of Eddie Pannoni whose life is always hanging by a string. Read about Detective Ernie Lijoi Sr. as he is placed in a position where he is forced to shoot and kill a serial killer who was responsible for the deaths of eight people.
In this latest Eddie Pannoni thriller, you will meet the assassin James Cooper, who was hired to kill the (DCI) Deep Cover investigator, Det. Ernie Lijoi Sr. You will actually witness the undercover deals that went on between Detective Lijoi and the people of the illicit world of Narcotics. You will encounter narcotics dealers that are likeable, others that are not, as well as a police officer who falls in with the wrong crowd, a man who gives his allegiance to the kingpins of the drug world. You will encounter drug dealers and organized crime figures, who think nothing of taking a life. People who are responsible for several murders and several attempted murders. Witness the shootouts between the Police and the drug crazed illicit narcotics dealers.
Book Title: The Butcher of Boston
Author: Ernie Lijoi, Sr
Mystery/Detective
Do you have any unusual writing habits?
No, I just sit down and start writing…The information comes to me, As I write, I remember different sequences in the story.
What authors, or books have influenced you?
Ernest Hemmingway…..OLD MAN OF THE SEA
What are you working on now?
A MOVIE PROJECT CALLED…..THE PREYERS…BASED ON REAL INCIDENTS
What is your best method or website when it comes to promoting your books?
Http://www.erniesr.com
Do you have any advice for new authors?
If you don't start, you will never finish.
Have confidence in yourself. I wrote the following about work and regrets.
REGRETS
Regrets are thoughts
that haunt the mind
Regrets are teachers
If you wish not to be blind
Learn from the mistakes
Move on to whatever it takes.
By:
Ernie Lijoi Sr.
March 12, 2013
What is the best advice you have ever heard?
Listen to others, but believe in yourself.
What are you reading now?
My own books and movie scripts. I don't have time to read anything else.
What's next for you as a writer?
A few books and three movies based on my books.
What is your favorite book of all time?
Don't have one.
Author Websites and Profiles
Ernie Lijoi Sr. Website
Ernie Lijoi Sr. Author Profile Other Bookseller
Ernie Lijoi Sr.'s Social Media Links
Facebook Profile
Twitter Account