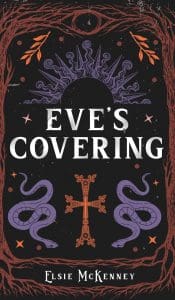 About Eve's Covering by Elsie McKenney
Free June 9th-11th. "Engrossing!" – Readers' Favorite. "This book definitely has it all! Mystery, murder, cult activity, romance, and intrigue!" -The Books Valley. Inspired by true events: When Eve's family moves to a charming lake town nestled along the northern Michigan shoreline, her parents are thrilled to make a new start-and new friends. But Eve soon realizes there is something sinister about the Blackwells. Can she break free from their deception before it's too late?
Buy the book, and follow the author on social media:
Learn more about the writer. Visit the Author's Website.
Like the Authors Facebook Fan Page.

Author Bio:
Elsie (Yoder) McKenney was born in Idaho and raised in a little Mennonite community. When her family moved to northern Michigan, they became entangled in a cult. This, her debut novel, is based on that experience. Elsie studied creative writing at Ferris State University where she earned the Excellence in Language and Literature award. She is also a world traveler, artist, and has a penchant for all things purple. She does her best writing early in the morning by firelight. When she isn't working on a novel, she can be found hiking through the woods, embroidering, or reading in a quiet nook. Elsie is the mother of two adult children and Mimi of multiple grandchildren. She resides in northern Michigan with her husband and soulmate, David, and their cheeky cavalier spaniel. Intrigued? Follow me on TikTok