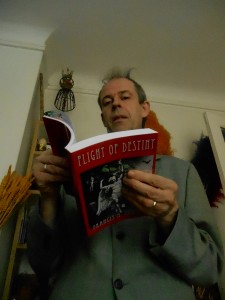 Tell us about yourself and how many books you have written.
I have had stories published in magazines "Freakwave" and Rat Mort (Dead Rat) as well as on the internet. I have had poetry published by Savant Books & Publications . My first published book is a book of 22 short stories, the book is called Flight of Destiny, it is also published by Savant, a publishing company based in Hawaii.
What is the name of your latest book and what inspired it?
My latest book is called Flight of Destiny. Having been inspired to submit short stories for magazines and the internet, it seemed logical to put together a book of short stories. What better way to put all my angst into short stories. Born in a commuter belt city called Reading and like many a middle or upper class child of such times I was shunted off to an all-male boarding school aged eight, away from my parents for periods of up to twelve weeks at a time. In such an institutions, where I was to rest until my seventeenth year, there was no getting away from the cruel jibes hurled at me from taunting tormentors. My refuge was the arts room, where I started to find some kind of redemption from the stark Dickensian surroundings, whose aim was nurture the army officers, businessmen, and gentry that dominate the class ridden world I was born into. The seeds were sown, I was an outsider, and this was later to be a great influence for me as a writer.
Do you have any unusual writing habits?
What authors, or books have influenced you?
Books by Rupert Thomson, Edgar Allan Poe and short stories by Roald Dahl
What are you working on now?
I am mostly feverishly promoting my book
What is your best method or website when it comes to promoting your books?
I use Goodreads and all the usual social media, Facebook, Twitter and youtube to promote my book trailer
Do you have any advice for new authors?
stick at it…
What's next for you as a writer?
I hope to publish a follow up to my recently published book
If you were going to be stranded on a desert island and allowed to take 3 or 4 books with you what books would you bring?
Switch bitch Roald Dahl,
SAS Survival Handbook: How to Survive in the WIld, in Any Climate, on Land or at Sea by John Wiseman
The Book of Revelation by Rupert Thomson
Author Websites and Profiles
Francis H Powell Website
Francis H Powell Amazon Profile
Francis H Powell's Social Media Links
Goodreads Profile
Facebook Profile
Pinterest Account