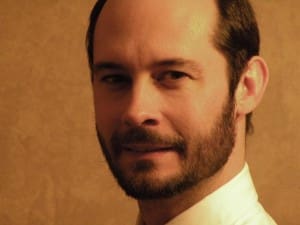 Tell us about yourself and how many books you have written.
My name is Frank Morin and I've always loved good stories. I'm an avid reader of many genres and I love great movies. I live in the northwest US with my wife and four kids. I've written three novels so far, which are now in the hands of my agent and actively being submitted to publishers. Two are the first books in an epic fantasy series. The third is the first in a YA fantasy series that is huge in scope and yet still filled with great humor.
I recently e-published a near-future science fiction/fantasy novella that is prequel to another trilogy I'm working on.
I'm part of a group blog of writers for writers known as the Fictorians where I get to interact with many other up-and-coming new authors. That interaction is helping boost my productivity a great deal.
What is the name of your latest book and what inspired it?
Saving Face (available on Amazon and B&N) is a near future science fiction / fantasy novella. It was inspired by a freaky dream I had and a resulting short story I wrote, which won honorable mention in the Writers of The Future contest.
In the dream, which ran like a movie, the protagonist was endowed with the power to remove people's souls from their bodies by pulling off their faces. He could then place that face onto another body, allowing the soul to possess the physical form.
That initial dream spawned the short story, the related novella, and now I am outlining a trilogy of full-length novels to take the concept to entirely new levels and tie it in with an alternate history story that will span the timeline of this world all the way back to ancient Egypt.
Do you have any unusual writing habits?
Writers rarely admit we're unusual, although to non-writers we're all escaped lunatics.
I like to take long walks when I'm planning or outlining a story and often end up talking to myself very energetically as I work out the plot or explore conversations between characters.
I joke with my wife that I never feel lonely – I always have my imaginary friends hanging around to fill up my time with incessant chatter.
But unusual habits? No, I don't think so.
What authors, or books have influenced you?
I've read widely, and I love good stories from many genres. I will admit I gravitate to fantasy since I love the epic scope of those stories, the many characters, and the complexities and imagination that can be woven into the tales.
Tolkien of course jumps to mind, as does David Eddings, Robert Jordan, and Brandon Sanderson. I've read all the Jim Butcher novels, and I was very impressed by Patrick Rothfuss' The Name of The Wind. It's not the type of story I can normally read, but he did such an exceptionally impressive job with it that I loved it.
I also felt deeply impressed by Edgar Allen Poe, and still tend to turn on more lights than I really need when I think about his stories. Raymond E. Feist, R. A. Salvatore, and Orson Scott Card wrote excellent stories, and when I like a lighter read, particularly when travelling, my go-to author is Clive Cussler. When I want a full-on crazy-fast sprint of a book, filled with constant battles and near-death experiences, I often turn to Matthew Reilly.
Then there's the movies that have made an impact. I love good movies, for they can bring a story alive in fantastic ways. But since you didn't ask me about movies, I'll just say you should.
What are you working on now?
I'm busy completing the outline for the trilogy that will be sequel to my novella, Saving Face. A couple of film agents have expressed an interest in it as a possible TV series idea so I need to get the completed outline to them soon.
I am also completing the outline to the sequel to my YA Fantasy novel, which will hopefully find a home with a publisher soon. It's an exciting, epic tale full of adventure, budding romance, and a healthy dose of humor. Can't wait to see that one in print.
I'd also like to write a story module for the Sojourner's game being created by Tracy and Laura Hickman (if you haven't heard about that yet, definitely check it out on their web page)
What is your best method or website when it comes to promoting your books?
I'm a little late to the marketing part of writing. I'm new to Goodreads, but I expect it will prove very effective. I'm planning to set up a Facebook page also. My own website is being enhanced and will be updated once more material is available. And I plan to peruse other authors' suggestions for other areas to focus.
Do you have any advice for new authors?
This is a marathon, not a sprint. I'm still new at this, but I've already seen many new writers with tremendous talent give up and abandon the dream before giving themselves a chance to get their works off the ground. Writing is not for the faint of heart, but if you keep at it and remain diligent, you will see successes eventually.
We are often our worst enemies, expecting instant success in this world of instant gratification. It doesn't work that way. We find success one word at a time, one reader after another. Keep at it and don't give up.
What is the best advice you have ever heard?
Finish your story.
Send it out there.
Write the next one.
You'll never make it if you only have one story to tell, or if you languish on that one story forever. Get it done and move on. Your first sale might be your fifth book. You never know what will stick, so make sure you have lots of material available.
What are you reading now?
I've been reading some works by Kevin J Anderson, Davind Farland, Brandon Sanderson, Larry Correia, Peter V. Brett, and Jim Butcher.
If I get all those done, I have a huge list of secondary want-to-reads.
What's next for you as a writer?
Write a lot more books.
e-publish some of them.
traditionally publish others.
Enjoy every day.
What is your favorite book of all time?
I have too many favorite books to have just one favorite.
Author Websites and Profiles
Frank Morin Website
Frank Morin Amazon Profile
Frank Morin's Social Media Links
Goodreads Profile
Facebook Profile