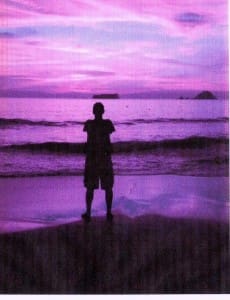 Tell us about yourself and how many books you have written.
When I stop to think about this question I believe it is because, like most writers, I am conceited enough to think that my opinions and observations about people and events may be interesting enough to write about in a book. I want it to be interesting enough for others to read and enjoy, or to hate; but interesting enough even for my readers to consider and form their own opinion about something that may not have occurred to them previously. Once I have chosen the main topic and major characters then I think about the beginning and the end of the book. Along the way I will stick in obstacles and situations to provide characters with problems that must be resolved before the final conclusion and, wherever I can, I try to add an "ambush twist" to keep readers guessing or surprised.
When I'm writing a new story I always check over the work of the previous day/week first of all.
To date I have written four books.
What is the name of your latest book and what inspired it?
So What Do I Do? is my latest book. It is the third book in my So What! series and is the result of the second book, So What's Next!, having a character in it called Hereward Grimes. He is a local civil servant who has devious intentions about selling some of the school's playing field area. The third book is a lot more sinister than the more gentle second book.
Do you have any unusual writing habits?
I like to write near a window where I can see the sky and a large ash tree, which usually has several birds singing in it. I have a bottle of fresh water available on my desk and classical music playing in the background.
What authors, or books have influenced you?
Just a few: George Orwell, Charles Dickens, H G Wells, George Eliot, D H Lawrence, Thomas Hardy, Tolstoy, John Wyndham, Brian Aldiss, Ray Bradbury, Frank Herbert; and more recently Vera Brittain and Margaret Atwood.
Books: 1984, Coming Up For Air, Animal Farm, The Road To Wigan Pier, Great Expectations, A Tale of Two Cities, The War of The Worlds, The History of Mr Polly, The Mill on the Floss, Silas Marner, The Mayor of Casterbridge, Day of The Triffids, Fahrenheit 451 … I'll stop there!
What are you working on now?
A science fiction book for children aged about 8 to 12.
What is your best method or website when it comes to promoting your books?
I'm still looking for a winning method I suppose. My least favourite part of "producing" a book is all the marketing/promotion side of things, gaining reviews, blog tours, author interviews, freebies and so on. What I really want is for my books to do the talking for me and leave it at that. But it's a real world out there, so… I have had a few free promotions that resulted in hundreds of downloads, which gets an authors name "out there" of course. My books seem to attract a lot more positive reviews than negative ones so I feel I am doing something right. It all takes time I suppose – unless you're a celebrity from TV, movies, sport etc.
Do you have any advice for new authors?
My advice to aspiring writers? Well I suppose first of all make sure that you read lots of other authors' books, and not necessarily in the genre in which you write. You can often be inspired by other topics or styles that way but remain aware of not to copying another author's way of telling a story. It's important to find your own "voice" for the tale you have to tell. I think it is also important to keep on writing, writing, writing – something every day if possible. Even if it seems like you've written rubbish or it feels unsatisfactory because you can always brush it up, edit it later, discard it entirely for something better you've thought of; this useful exercise often gets the inspirational juices flowing.
What is the best advice you have ever heard?
As above keep on writing (and reading) trying to find your own style.
What are you reading now?
I recently finished Frederick Forsyth's "The Odessa File" and have just started reading Ian Rankin's "Knots and Crosses". I love their clear, no nonsense style which is so full of hidden meaning.
What's next for you as a writer?
I'm doing lots of book reviews through Goodreads and re-writes of "Ants in Space".
If you were going to be stranded on a desert island and allowed to take 3 or 4 books with you what books would you bring?
The two Charles Dickens' from above plus War and Peace and Proust because I still have not got round to it!
Author Websites and Profiles
G J Griffiths Website
G J Griffiths Amazon Profile
G J Griffiths's Social Media Links
Goodreads Profile
Facebook Profile
Twitter Account
Pinterest Account