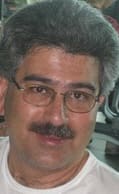 Tell us about yourself and how many books you have written.
I spent 24 years working as a defense attorney in Montreal, the city where I've lived most of my life. I used to write off and on, mostly for my own pleasure, but a few years ago I started to take t a little more seriously. I managed to sell two short stories, and recently published my first novel, The Guilty. I live with my wife and two sons and, when I'm not working or writing, I spend most of my time obsessing over the Montreal Canadiens hockey team.
What is the name of your latest book and what inspired it?
My book is called The Guilty. It is loosely based on a multiple murder case I worked on back in the 1990s. I was inspired to write the story by the desire to write a "warts and all" portrait of criminal lawyers, while at the same time grounding the story in a tense murder trial. I felt that too many fictional lawyers were too idealistic, or too heroic, and wanted to create a character who is not above bending the rules when it suits him, and who also doesn't see himself as a crusader out to save an innocent man from an unjust conviction.
The Guilty is the story of a lawyer named Robert Bratt, a veteran defense attorney whose faith in the justice system, and the role he plays in it, wavers when his daughter's best friend is raped and the rapist is acquitted. The rapist's lawyer twisted the victim's testimony around to make her look like she was the aggressor, and Bratt knows this is exactly what he would have done in his place. But his daughter hates all lawyers now, including him, and that causes him to question the way he has always practiced his chosen profession and the violent people he represents. Then, Jennifer Campbell, a devoutly religious woman, hires him to defend her son, Marlon Small, who is accused of a brutal double-murder. Small has an air-tight alibi but, despite Campbell's protestations, Bratt's instincts tell him it may be too good to be true. But Bratt's drive to succeed, combined with his sympathy for the heartbroken mother, push him to defend the young man anyway. Can he continue to turn a blind eye to what his client might have done, and manipulate the truth as he so often has in the past, all in order to defend "The Guilty?"
Do you have any unusual writing habits?
I have absolutely no discipline when it comes to writing. I write at all hours, day or night; sometimes I'll write non-stop, and other times I'll just leave it for weeks at a time. I guess my only writing habit is a bad habit.
What authors, or books have influenced you?
I've read a wide range of books by all sorts of authors, living and dead. I don't know which ones influenced me directly, but I'm sure some knowledge must have sunk through my thick skull while I wasn't paying attention. For example, over the years I've loved Raymond Chandler, Joseph Conrad, Frank Herbert, Stephen King, Ian Rankin, Charles Dickens and John LeCarré, to name a few. I don't know that I can do what any of them have done, whether in terms of style or substance, but I can only hope that I learned a bit from what each writer does best, and hopefully applied that knowledge in my own writing.
What are you working on now?
I'm working on another legal drama, which is also based in Montreal, that is tentatively titled "A Crooked Little Man." Unlike The Guilty, which is about a very successful, high profile lawyer, my new book is about the polar opposite: a barely competent lawyer who is struggling to pay his rent, and who barely has any clients, and doesn't represent the ones he has particularly well. One day he is hired to defend a homeless man who is charged with murder, but soon finds that he is in over his head.
What is your best method or website when it comes to promoting your books?
I post news about my novel, The Guilty, as well as my other writing on several different sites. Of course, I have my own, at www.storiesbygabrielboutros.weebly.com, and I also have author pages on Goodreads and Author's Den. Of course, the easiest place to find and buy my book is always Amazon.com.
Do you have any advice for new authors?
I'm not sure if I'm in a position to give anyone advice on writing, so I'll just repeat some very good advice that I received many years ago. Read. Simple as that. No matter how good you think you are, or how much natural ability you think you have, if you don't read, a lot, you'll struggle as a writer. Read great literature, read commercial fiction, read beautiful prose and read crap. You can learn just as much from what others do badly, as from what they do well.
What is the best advice you have ever heard?
Read. (See above.)
What are you reading now?
I'm presently reading a non-fiction book about the colonization of Australia by convicts from England. It's called The Fatal Shore. When I'm in the process of writing a story or a book, as I am now, I try not to read too much fiction because I found in the past that I would subconsciously imitate the voice or style of the writer I was reading.
What's next for you as a writer?
I'm presently taking a two-pronged approach to my writing. I work on my new book, and I also spend a lot of time publicizing and marketing The Guilty. This has given me the chance to hear from lots of other writers as well as readers, which I enjoy since writing is really a very solitary act.
What is your favorite book of all time?
This is so hard because over the years that favorite book has changed so often, as I grew up, got an education, got a job, got a family, got older. My taste has broadened over the years too, so that I discovered genres or subjects that I might not have considered earlier in my life. I hate to bail out on any question, but I could give you a list of my favorite ten right now, and tomorrow I'll think of a bunch more that I should have included. I will mention that the writers that I named above have all written books that I've absolutely loved for years after I read them. Feel free to go read anything by anyone of those, and you'll certainly find a great book or two, whatever your taste.
Author Websites and Profiles
Gabriel Boutros Website
Gabriel Boutros Amazon Profile
Gabriel Boutros's Social Media Links
Goodreads Profile
Facebook Profile
Twitter Account
Pinterest Account