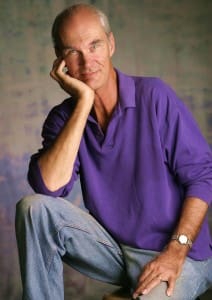 Tell us about yourself and how many books you have written.
I am a character actor with about 20 years in film and TV, and now write and record audiobooks with my soul mate, Mil Nicholson. I have a passion for building and flying model airplanes.
We live in the Appalachian mountains with our dogs Sparky- a Jack Russell Terrier, and Nina, a Silken Windhound.
ELSEWHEN is my first book.
What is the name of your latest book and what inspired it?
ELSEWHEN had its beginnings when I worked at a radio astronomy site some time ago, and much of the detail is taken from my experience there. This is my first book, and the most startling thing I learned from the process, was that I love writing dialogue! I have loved writing this story, and I hope it shows. I also designed the cover myself, and feel that it captures the spirit of the story.
I believe in soul mates. I am supremely lucky to have found mine. But are soul mates eternal? Do they cross space and time? If one dies, what happens to the other? Is there a second chance?
I also wanted to create characters who not only loved unreservedly, but were well-spoken, highly intelligent people. Nerds, actually. But nerds with highly unusual abilities.
For instance, what if the ability to step into an alternate reality were the next step in evolution? What if a few such gifted individuals were among us now? Little Laura Bess Austin is one of them, and her soul mate "Lije" Grant has a hidden ability also…
"Though lovers be lost, love shall not; and death shall have no dominion." –Dylan Thomas
Do you have any unusual writing habits?
Nope.
What authors, or books have influenced you?
Douglas Adams, Robert B. Parker, and many, many more.
What are you working on now?
A sequel to ELSEWHEN, which has no title as yet.
What is your best method or website when it comes to promoting your books?
www.elsewhen.net
Do you have any advice for new authors?
Write the bones first without editing, then flesh it out, then cut it down, then get it professionally edited. I can't abide poorly edited books. It turns me against the author immediately.
What is the best advice you have ever heard?
You can't please everybody, so you've got to please yourself. (Ricky Nelson)
What are you reading now?
Miss Peregrine's Home for Peculiar Children by Ransom Riggs
What's next for you as a writer?
One never knows, do one?
If you were going to be stranded on a desert island and allowed to take 3 or 4 books with you what books would you bring?
Author Websites and Profiles
Gary Bullock Website