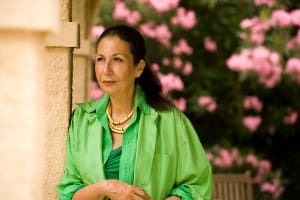 Tell us about yourself and how many books you have written.
I am a novelist, a dreamer, a traveller, a mother, a wife and an incurable romantic. The seeds for my writing career were sown in early childhood, spent in Egypt, when I came to an agreement with my governess Zula: for each fairy story Zula told, I would invent and relate one of my own. Years later – following a degree in French literature, several years of travelling in Europe, falling in love with an Englishman, the arrival of two beautiful children and a career in property development – I decided after so many years of yearning to write that the time was now. Today, I live the dream: I write full time, splitting my time between my homes in Kent, England, and the South of France, where I dream up romances overlooking breathtaking views of the Mediterranean.
What is the name of your latest book and what inspired it?
Although a standalone romance novel, Indiscretion is the first book in the Andalucian Nights Trilogy, the saga of a Spanish aristocratic family that spans 70 years, from 1950 to the present day. It is the story of a young woman's journey of discovery that takes her to a world of forbidden passion, savage beauty and danger.
The setting is spring 1950. Alexandra de Falla, a half-English, half-Spanish writer, abandons her privileged but suffocating life in London and travels to Spain to reunite with her long-estranged family.
Instead of providing the sense of belonging she yearns for, the de Fallas are riven with seething emotions, and in the grip of the wild customs and traditions of Andalucia, all of which are alien to Alexandra. Among the strange characters and sultry heat of this country, she meets a man who awakens emotions she hardly knew existed. But their path is strewn with obstacles: dangerous rivals, unpredictable events, and inevitable indiscretions.
What does Alexandra's destiny hold for her in this flamboyant land of drama and all-consuming passions, where blood is ritually poured onto the sands of sun-drenched bullfighting arenas, mysterious gypsies are embroiled in magic and revenge, and beautiful dark-eyed señoritas hide their secrets behind elegant lacy fans?
Indiscretion is a story of love and identity, and the clash of ideals in the pursuit of happiness. Can love survive in a world where scandal and danger are never far away?
Do you have any unusual writing habits?
I need a herbal tea to kick me off!
What authors, or books have influenced you?
Mary Margaret 'Mollie' Kaye (1908–2004) has been one of my favourite writers since I read her worldwide best-seller The Far Pavilions in the early 1980s. She has been an inspiration to me in my writing, because, like me, she was a traveller at heart and she wrote wonderfully descriptive stories set in exotic locations that really transport you to far-off lands.
What are you working on now?
This summer, my publisher is planning to bring out Masquerade, Book 2 of The Andalucian Nights Trilogy of which Indiscretion, launched in April, was the first.
A young Spanish writer becomes entangled in an illicit gypsy love affair – until an unexpected attraction pulls her into a world of secrets, revenge and mystery.
Summer, 1976. Luz de Rueda returns to her beloved Spain and takes a job as a biographer to a famous artist. On her first day back, she encounters a bewitching, passionate young gypsy, Leandro, who immediately captures her heart. Even though relationships with gypsies are taboo and her family are suspicious of his kind, Luz becomes fascinated by him.
Haunted by this forbidden love, she meets her new employer, the suave, sophisticated Andres de Calderon. Reserved but darkly compelling, he is completely different to Leandro – and almost the doppelganger of the gypsy. Both of them stir feelings in Luz that are unfamiliar and exciting, but danger, secrets and lies surround the two men in ways she has yet to discover.
Luz must decide where her heart lies, and determine the price of desire – her happiness, her ruin, or something far worse? Should she listen to the gypsy witch who appears with strange warnings about Gemini? And who will she finally choose, the gypsy or the hidalgo?
What is your best method or website when it comes to promoting your books?
I am most active on Twitter, but I am getting to know Facebook a lot better these days. I blog every couple of days, which creates a talking point on social media.
Do you have any advice for new authors?
If the desire, the discipline and the time required for the project are all there, then:
First and foremost, write from the heart. Be true to yourself and don't compromise to please the market. Markets change, fads come and go; your work will remain.
Research your facts thoroughly. A writer today has no excuse for not getting his/her facts right. Use all the tools available to you. Travel, internet, books, films, documentaries: they're all there to enrich your experience and make your writing journey easier.
Plan your novel down to the smallest detail. This will make your writing so much easier and therefore so much more enjoyable. A plan is your map. Would you set out on a long journey by car without a map?
Read, reread and reread. Edit, edit, edit. Go through your manuscript again and again and edit it. I know that it will break your heart to delete a phrase or even one word you have spent time agonising over, but sometimes less is better than more. Not easy advice to follow, but in the long run it does work. If you can leave the manuscript alone for a few weeks and revisit it at a later date, reading it as if it were someone else's, than that's even better.
Do not get discouraged. Continue to write whether you think your work is good or bad. There is no bad writing. There are good days and bad days. The more you write, the better you get.
What is the best advice you have ever heard?
Anais Nin: "If you do not breathe through writing, if you do not cry out in writing, or sing in writing, then don't write." I do all that.
What are you reading now?
Apart from the longs hours of reading I do for my research, I read almost anything; but I love to read romantic novels most of all (the thicker, the better). I also enjoy reading mystery books, psychological thrillers, books about customs and traditions in various countries, books of quotations and dictionaries. I read every night before going to sleep at the rate of one chapter a night.
The last book I read was The Amber Keeper by Freda Lightfoot – I love family sagas. I am now reading The Dressmaker's Daughter by Nancy Carson.
What's next for you as a writer?
Writing more books, and more books! I have written books set on the Greek Isles, Luxor and the desert in Egypt, the French Riviera and Lake Como, all of which will be published in the next few years.
If you were going to be stranded on a desert island and allowed to take 3 or 4 books with you what books would you bring?
A dictionary, because I love learning about language; my favourite book, The Far Pavilions; Jane Eyre by Charlotte Bronte; and the history book my grandmother wrote.
Author Websites and Profiles
Hannah Fielding Website
Hannah Fielding Amazon Profile
Hannah Fielding's Social Media Links
Goodreads Profile
Facebook Profile
Twitter Account
Pinterest Account