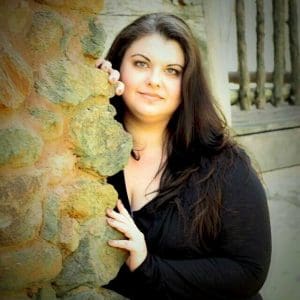 Tell us about yourself and how many books you have written.
I'm a debuting author excited to find new readers that can relate to my fascination with our darker sides. As of yet, I've only published Falter, but I have more underway!
I live in the Carolinas with my genius husband, ten-going-on-seventeen year old son, and an outdoor cat. My dayjob is in the medical field, but it's actually my nightjob since I'm a creature of the nighshift. I enjoy movies, reading, crocheting, painting, gardening (though I'm not very good at it), Supernatural, Penny Dreadful, and Vikings.
What is the name of your latest book and what inspired it?
Falter is my portrayal of the gray areas of spirituality and morality that many of us struggle with. Choosing what to believe in a God, in ourselves, and in others is much harder, I think, than we'd like to admit. I am a spiritual person who grew up, and maintained, christian beliefs. However, I've always been fascinated with the darker side of a person's soul, what can turn good intentions into terrible decisions.
My novel toys with those notions.
Nevaeh Richards thinks she has found a chance to leave her homeless life behind. When the spirit of the only father she knows is wrongfully taken to Hell, Nevaeh is hurled into a world haunted by monstrous demons, rogue Guardian angels, love that is beyond her control, and a soul-threatening choice between the inherent evil inside her and the faltering faith she is struggling to grasp.
Nevaeh and George have lived on the streets as father and daughter since he found her, alone and unconscious, many years ago. When they start a new life employed at Joe's cafe, Nevaeh experiences debilitating visions and frightening apparitions. Adding to the troubling path her life has taken, George suddenly becomes ill and an Animus demon takes his soul hostage in Hell. Unfortunately, the ransom may be more than Nevaeh can afford.
As Nevaeh spirals into this supernatural world, Gavyn—the handsome café-owner—tries to convince her that she belongs to a hidden race of people with God-given gifts known as Celatum, and she may be a key player in the Celestial war. However, even after all the otherworldly events she experiences, Nevaeh continues to deny her part in it all.
Meanwhile, Archard—a stranger she feels undeniably bonded to—mysteriously wanders in and out of her life, offering none of the answers she suspects he holds.
Will Nevaeh attain the faith it requires to fulfill her fate as a Celata and take part in the Celestial fight? Or will she give into the darkness that calls to her for the sake of George's soul and damn herself to Hell?
Warning: this novel contains adult language and sexual content. Readers 18 years and older only, please.
Do you have any unusual writing habits?
No unusual habits for me, but I do have to be in a mood to write. Being at my favorite coffee shop helps too.
What authors, or books have influenced you?
My favorite authors include Karen Marie Moning for her clever yet elaborate details, Leigh Bardugo's vivid imagination and descriptions, and Jamie McGuire for her will to succeed as an author while creating great books everytime she writes.
What are you working on now?
I'm about 75% done with book 2 in the Faltering Souls series, and I have 3 pages in a stand-alone fantasy that may end up with a sci-fi twist.
What is your best method or website when it comes to promoting your books?
I'm a huge Facebooker. Networking with bloggers, readers, and other authors is so important.
Do you have any advice for new authors?
Research everything on writing, publishing, networking they can. Get a good grip on the reality of it because publishing is an intimidating industry, and if you are not serious about it, you won't get far, unfortunately. Discouragement is an emotion you will feel often, but I firmly believe that if you are diligent, you can make it. You may not have a fat wallet in the end, but it's better to try and fail, knowing you gave it your best than avoiding the trials of being a writer when you could have been magical.
What is the best advice you have ever heard?
"Never give up." It's said so often, but we have to push through the tough times in this career to make it.
What are you reading now?
I'm reading Only Human by J.D. Estrada and listening to Shadow of Night by Deborah Harkness. I love audiobooks!
What's next for you as a writer?
I want to succeed in sharing my stories with readers and reaching out to those who might relate to me. I'll continue on my writing journey, attend author events, and hope for the best!
If you were going to be stranded on a desert island and allowed to take 3 or 4 books with you what books would you bring?
I'd take Darkfever, Shadow and Bone, Curing Doctor Vincent, and the Bible to balance me out.
Author Websites and Profiles
Haven Cage Website
Haven Cage Amazon Profile
Haven Cage Author Profile on Smashwords
Haven Cage's Social Media Links
Goodreads Profile
Facebook Profile