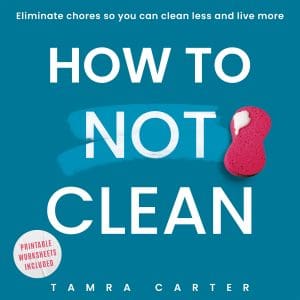 About How To Not Clean
Discover how to have a clean house WITHOUT THE WORK, even if you are drowning in mess.
Is cleaning and tidying leaving you drained, exhausted, and lifeless? Do you dread the hours of back breaking work it takes just to keep your house clean? Have all other cleaning methods failed you?
If you want a clean house, without all the housekeeping that comes with it, then How to Not Clean is your answer.
Because the truth is:
Cleaning is too much work.
Organizing doesn't last for long.
Tidying is never ending.
Decluttering is impossible.
Minimalism doesn't clean your house for you.
In this book you will discover how to reduce your chores one by one. Even if you have a job and a house full of kids. You no longer need to spend your free time cleaning.
Tamra Carter, a certified organizing specialist and life coach, battled the overwhelming pressures of maintaining a home with kids while dealing with chronic illness. Now, she unveils a unique system that deals with cleaning tasks, reducing the effort going into them.
Here is a fraction of what you will discover in How to Not Clean:
The truth about minimalism that no one talks about.
The 5 myths of mess and the truth behind the confusion.
3 simple steps to reduce each cleaning task one by one.
Why standard cleaning, tidying, organizing, and decluttering do not work.
Instant organization without expensive or complex systems.
How to diminish cleaning in the first place.
Tips and tricks you can do right now to clean less.
And much, much more…
Even if you spend 30 hours a week cleaning right now…
Even if you got rid of everything you own and still are surrounded by mess…
Even if you only have 10 minutes a day to clean…
And even if you have rambunctious children contributing to the chaos…
You can free up your time to live the life of your dreams and make your home and space a haven of support and calm at the same time.
Eliminate the need to clean. Step by step. Chore by chore. If you want a life of more joy and less cleaning, then get your copy of How to Not Clean today.
Buy the book, and follow the author on social media:

Author Bio:
Tamra Carter is a certified organizing specialist and life coach. Her passion for reducing the drudgery of cleaning was fostered by living for over 20 years with chronic illnesses that made cleaning more than just a passive chore but a life-draining task. It revealed to her how much energy and time repetitive chores suck up from our lives. As a result, she became passionate about motion study and in reducing the effort needed to get cleaning tasks done. She is now sharing her score of discoveries with the world to help everyone live a little more and clean a little less.