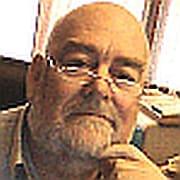 Tell us about yourself and how many books you have written.
I would describe myself in two ways; I am a late starter and I am living my life backwards. By that I mean that I am doing things now that people normally do when they are in their early 20's and that was 45 years ago!
I started writing in the mid 1980's. I was running a Bureau de Change at the time and had planty of free time on my hands waiting for customers. I therefore knew the world of foreign currency and Travelers Cheques intimately and let my imagination run riot in a 'What if' sort of way. That book, my first novel is That Will Do Nicely was written at a time of great change in the computer industry and the press industry. The PC was born about then and color was introduced to the world of newspapers and the whole of the print industry became computerised.
I had learnt how to print with a manual press at school and in one of the photographic studios I had worked in early in my photographic career and having learned how to do it the hard way I was in a unique position to appreciate the new methods that entered the industry then. The first book is a pure piece of confidence trickery and fits into the Crime Fiction niche. However, the protagonists of the book end up in south-west France where my first interest lies; near the mysterious village of Rennes-le-Château, the subject of many authors including Dan Brown's 'DaVinci Code'. My second book, Pentagon Five is a sequel to the first but lies in the Adventure/thriller niche.
Due to my interest into the mysteries of Rennes-le-Château, I tracked down the author of one of its seminal works, Genisis – The First Book of Revelations' and was later asked to collaborate on my third book (non-fiction) of Geneset – Target Earth which was published in 1994. After that came a book on teaching Math (I am a retired math teacher) and a couple of books of short stories called Vendange – stories about my grape picking days in the Haut Médoc in France.
What is the name of your latest book and what inspired it?
My latest book is Vendange – tales of the grape vine. Inspired by my quest to learn about wine.
Do you have any unusual writing habits?
The only thing other writers might find strange is that I have always written through the computer. I am not a pen and ink author.
What authors, or books have influenced you?
I love the early works of John le Carré. His books like 'A Murder of Quality', 'The Spy Who Came In From the Cold' and 'A Small Town in Germany' were great works of fiction… concise; neat and not too long.
What are you working on now?
I am bringing out a serialized set of 8 volumes of Geneset – Target Earth. It was a very weighty and expensive tome when it was first published in 1994 and contains a lot of knowledge which I want the public to have access to. My co-author, no longer with us; was a genius.
What is your best method or website when it comes to promoting your books?
This is a difficult question because the goalposts keep shifting. Promotion sites like Awesome Gang in conjunction with Amazon's KDP Select is the current flavor of the month but amazon is ringing the changes.
Do you have any advice for new authors?
If at first you don't succeed, try, try, try again!
What is the best advice you have ever heard?
Definition of a writer is 'someone who writes.' It is that simple. Don't talk about doing it. Do it.
What are you reading now?
I am part way through le Carré's 'The Perfect Spy'.
What's next for you as a writer?
I have one or two great novels stacked up. One will be a political thriller based on true but secret events.
If you were going to be stranded on a desert island and allowed to take 3 or 4 books with you what books would you bring?
'The Lost Light' by Alvyn Boyd Kuhn.
'Cosmos' by Carl Sagan.
'ASnacalypsis – The Saitic Isis' by Godfrey Higgins.
Author Websites and Profiles
Ian Campbell Website
Ian Campbell Amazon Profile
Ian Campbell's Social Media Links
Facebook Profile