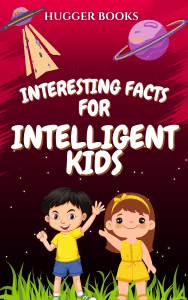 About Interesting Facts For Intelligent Kids
Interesting Facts for Intelligent Kids is a collection of Mind-Blowing and Fun Facts for young readers who are curious to learn new stuff and willing to find answers about the world around us.
This book covers a wide range of subjects, including the world's fastest animals, the deepest oceans, and the tallest trees, as well as the wonders of nature and science.
This is more than just a collection of cool facts. As young readers discover the amazing world around them, they will be encouraged to ask questions, make connections, and explore creative ideas. This book is a tool for developing critical thinking, problem-solving, and creativity.
Book will be free for a limited time, so grab it while you can.
Buy the book, and follow the author on social media:
Learn more about the writer. Visit the Author's Website.

Author Bio:
Hugger Books is a publishing house who focuses on children's book and our goal is to make learning fun and accessible to everyone.