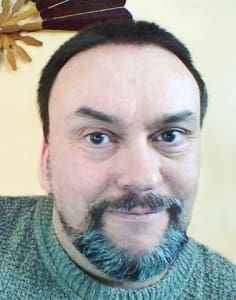 Tell us about yourself and how many books you have written.
I spent over two decades working in IT, most recently as the IT Director for an online university in New Brunswick, Canada. In my off hours, I satisfy my compulsive need need to create something new. It's what keeps me going. In the past, that meant developing my own computer games, making web sites, designing computer graphics, or drawing web comics. These days, particularly with the increasing prominence of online publishing, it means writing, my first passion. Since 2010, I've written numerous screenplays and short stories spanning different genres, some published, most not. Looking back on it, I see the journey now as a means of discovering my voice as a writer. Recently, I published my first book on Amazon Kindle.
What is the name of your latest book and what inspired it?
"Reading The Dead – The Sarah Milton Chronicles" is an origin story for a new paranormal detective series on Amazon Kindle. The book follows the adventures of LAPD homicide detective/criminal profiler Sarah Milton, a bookish young woman with a sheltered past, whose only friend was an imaginary thirteen-year old she named Anna Nigma. Now thirty, she finds herself investigating a particularly baffling serial killer case as a member of the Violent Crimes Unit. After a fatal shooting, she is reunited with Anna after more than a decade, and soon discovers that both her "imaginary friend" and her investigation are steeped in the paranormal. She must come to terms with her ability to communicate with the dead, before it threatens to uproot the life she built for herself.
The story grew from a screenplay I completed in 2011. The fun characters that I read in the script inspired me to continue their tale in an ongoing series.
Do you have any unusual writing habits?
When tackling a novel, I tend to make my initial draft in the form of a screenplay. This lets me work on the plot and dialogue first, fixing anything that needs fixing before I begin the lengthy process of crafting the flesh onto its bones.
What authors, or books have influenced you?
The characters scripted by Joss Whedon and Tim Minear probably had a greater impact upon me than any other writers in the development of this series. In crafting the main characters, Sarah Milton and Anna Nigma, I wanted strong, yet vulnerable female leads with sass and real depth.
What are you working on now?
I'm nearing the end of my first draft of "Reading The Dead" volume two now. All that remains is the big climax. I think fans of the first book will enjoy it. "Fidelis in Aeternum" offers more fun, suspense, and excitement than the original, with a third-person perspective that really fleshes out all the characters from volume one, as well as introducing others that you won't soon forget.
Also, I recently finished a short story entitled "Hole" that I plan to submit to Neverland's Library, an upcoming fantasy fiction anthology.
There's a couple of other books that I also have on the fire, but the critic in me keeps insisting on major rewrites before they're anywhere near presentable.
What is your best method or website when it comes to promoting your books?
Facebook and Twitter are good to some degree. I recently offered a four-day free book giveaway, so I know there are hundreds of Kindles out there with my book on them. With the huge volume of indie books being published these days, the best promotion a new author can hope for is probably just to stay public in social media circles and let word of mouth advertising build.
Do you have any advice for new authors?
Write. Edit. Edit. Edit. Edit some more. When you think you're ready to publish, edit again. Be your own worst critic. Then, once your book is finally released, market it everywhere. Get it in as many hands as possible. Then go back to your word processor and repeat ad infinitum.
Never quit writing. Set yourself daily writing goals and stick to them. Never throw anything away. You may go back and reveal a gem with a little polishing later.
What is the best advice you have ever heard?
If you're true to yourself, your work will never be as good as your ambitions. Keep fighting your way through until you close the gap.
What are you reading now?
"Under the Dome" by Stephen King and "Cannibal Corpse" by Tim Curran (during the five minutes a day I can afford for reading).
What's next for you as a writer?
I still have a long way to go towards finishing the "Reading The Dead" series. Many stories to tell, with plenty of mysteries waiting in the wings. I hope that one day, I'll garner enough of a fan base to sway a publisher to consider the series for print. I'd rather not go the independent publishing route for a print book. Marketing an ebook is tiresome enough.
What is your favorite book of all time?
"Pet Sematary" by Stephen King. To this day, it remains the only book that I couldn't set down from start to finish.
Author Websites and Profiles
J.B. Cameron Amazon Profile
J.B. Cameron's Social Media Links
Goodreads Profile
Pinterest Account
To discover a new author check out our Featured Authors page. We have some of the best authors around. They are just waiting for you to discover them.
To discover a new author check out our Featured Authors page. We have some of the best authors around. They are just waiting for you to discover them.