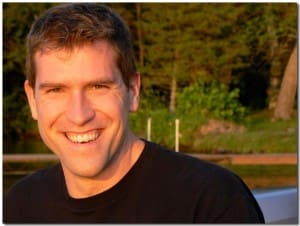 Tell us about yourself and how many books you have written.
THE KEEPER OF DAWN is my debut novel. Although this novel takes place at an all-boys prep school in the Northeast, I was born and raised in the Midwest and attended public schools. So I definitely deviated from the writer's adage of "write what you know."
What is the name of your latest book and what inspired it?
I first got the idea of to write THE KEEPER OF DAWN when I visited Christ School, an all-boys prep school outside of Asheville, North Carolina. In the short while that I was there, I was struck by a feeling of seclusion. The campus had a gravity all its own, something distinctly apart from family and community. It was this feeling of isolation that gave me the idea of having a school on an island off the northeastern seaboard. And in a way, the island in my book becomes a sort of character that both restrains and empowers the wolf pack of privileged, adolescent boys as they struggle to redefine themselves in the wake of the lives they have left behind on the mainland.
Do you have any unusual writing habits?
I write long-hand for the rough draft and usually the first revision. It's not until subsequent revisions that I do my editing on a computer.
What authors, or books have influenced you?
I tend to be attracted to authors whose body of work stretches over several genres. Paul Theroux accomplished this with his novels as well as his travel memoirs. I'm also a big fan of T.C Boyle and John Irving.
I avoid series writers like the plague. Diversity is a rare commodity in almost any money-making venture, and the publishing industry is no different. I have a great deal of respect for any individual who can resist the temptation of pursuing the more lucrative path and craft stories that forces them to step outside of their comfort zone.
What is your best method or website when it comes to promoting your books?
AwesomeGang.com, of course!
I've actually had quite a lot of success using Amazon's KDP Select program to get copies of my book into the hands of readers. I've found that this works most successfully once you've already built up some positive reviews.
The reading community at GoodReads is also a wonderful place for any writer trying to find an audience.
Do you have any advice for new authors?
Forget about fortune. Next, remove all of those foolish notions of fame from your mind. Now take a good long look at what remains. And if that's still enough, then roll up your sleeves and start writing.
What are you reading now?
Dune Messiah, by Frank Herbert.
What's next for you as a writer?
I'm putting on the finishing touches to a travel memoir, LATITUDES, that's scheduled to come out this fall. It details a trip my wife and I had the privilege of taking a few years back where we quit our jobs and moved all of our possessions into storage to backpack around the globe. Five continents and seven months later, we returned home with a journal written aboard trains, planes, buses, impossibly small automobiles, feluccas, and overnight ferries.
After that, it's on to my next novel—HURRICANE CHARLIE—a story of a widower and former composer who tries desperately not to get swallowed whole by his midlife crisis. It takes place at the height of the housing bubble in the New South, where our dear protagonist wrestles with regret, gentrification, and his own flavor of mild racism. While the new generation seems to be forcing Charlie into obsolescence, it's also the innocence of youth that gives him one last shot at life. The composer within Charlie finds himself in a conflict of music versus noise, harmony versus chaos, where his only chance of survival depends on preventing himself from becoming his own worst enemy.
Author Websites and Profiles
J.B. Hickman Website
J.B. Hickman's Social Media Links
Goodreads Profile
Facebook Profile