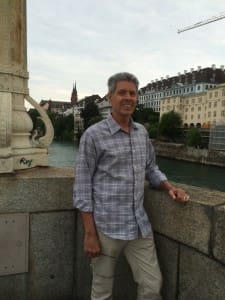 Tell us about yourself and how many books you have written.
I live in northeast Ohio where I write sci-fi, fantasy and suspense novels, and a few short stories. Mostly I write stories I think I'd like to read with characters that are interesting enough that readers want to find out what happens to them. I also spend time teaching and training at the karate dojo my wife and I founded, building a Japanese garden in the back yard, and taking walks in the woods with our dog I have three novels in print, a collection of short stories, and a co-authored children's book. I continue to work on my next book and seem to always have several stories in various stages of completion.
What is the name of your latest book and what inspired it?
My latest book is Foxworth Terminus. I decided to look at what might happen to a secret government attempt to increase someone's paranormal powers if that experiment was more successful than anyone imagined. This has been a common theme in science fiction. My unique twist was that the experimental subject would become so powerful that he was viewed as a threat by his own government. More important to the main character was what effects his sudden change had on his friends and girlfriend. Not all of it was pleasant.
Do you have any unusual writing habits?
I tend to have a few too many ideas floating around at once and take notes so the ideas don't get lost but try very much to stick to a single work until it is done and then set it aside to ferment while I work on another idea. After sometime I dig into that story again and revise and improve it. This goes through numerous revisions until I think I've got it ready to see print. Not sure if this is all that unusual but it's what I do.
What authors, or books have influenced you?
Louise Penny when it comes to mysteries.
Robert Heinlein and Gregg Bear for science fiction.
J.R.R. Tolkien for fantasy.
What are you working on now?
I recently began a draft of a sequel to War Party and got that to a point where it needed a rest. Since a number of readers have requested a sequel to Shepherds, that is nearly ready to begin.
In the meantime, while those ideas ferment, I'm doing a revision on my epic fantasy novel.
What is your best method or website when it comes to promoting your books?
So far I've found twitter and FaceBook work pretty well. There are a number of other sites that produce some results but not always at a profit for indie authors.
Do you have any advice for new authors?
Write, write, write.
And then rewrite until you've go the best book you can do. Get beta readers and have them nitpick your work until it is free from typos and grammar errors. Then publish.
What is the best advice you have ever heard?
Heinlein's 5 rules for being a writer.
What are you reading now?
The Murder Prospect, recommended by a friend.
What's next for you as a writer?
Finish the fantasy novel and get going on the sequel to Shepherds.
If you were going to be stranded on a desert island and allowed to take 3 or 4 books with you what books would you bring?
The Lord of the Rings
Stranger in a Strange Land
How the Light Gets In
Author Websites and Profiles
J Drew Brumbaugh Website
J Drew Brumbaugh Amazon Profile
J Drew Brumbaugh's Social Media Links
Goodreads Profile
Facebook Profile
Twitter Account
Pinterest Account