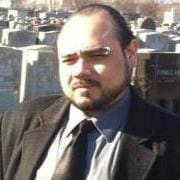 Tell us about yourself and how many books you have written.
I'm from NYC. I guess I'm like a lot of others in this 'town.' I'm quirky, eccentric, out-spoken, and a weird blend of everything NYC has to offer. Mostly, I believe I am a decent human being. In addition, I'm very passionate about the things I like to spend my time doing, which include writing and recording music as a half-decent vocalist and terrible guitarist, writing lyrics/poetry and fiction, watching and studying film & television, reading comics and tech books, digital art, and learning all that I can about the world in my strange way of comprehension. I've just released my first full-length novel, which is currently available through Amazon and Kindle.
What is the name of your latest book and what inspired it?
It's titled, The Alpha & The Omega and it's part of a planned series of twelve books called, The Red Moon Rises. I also plan to release supplemental short stories to add to the universe. Writing the novel came about as a result of a challenge from a friend. I was frustrated with the current trend of dark fantasy in the mainstream. I vocalized my opinions to a friend and was asked if I thought I could do better, I should write it. While I know that there is no such thing as 'better' in art, I set out to write something that others like me could appreciate. Another friend, who had already published through both traditional and modern methods, directed me to NaNoWriMo in 2012 and I began writing. I did not finish for the competition, but I rediscovered my love for storytelling. Soon after, I had a finished draft that was terrible and needed tons of work. So, I worked on it and bought some great references to help me.
Do you have any unusual writing habits?
I suppose I do. I don't write as regularly as I should. I think that's strange, since practice makes better. I seem to write in spurts, jumping around between all my passions. When I do write, I try to envision my story before I ever even commit to putting the words on the screen. I also tend to listen to music that promotes the mood that I'm attempting to capture in a scene. My friends and I also have one hour blitz sessions where the winner decides on a movie for the group to watch. Sometimes, I stay up for days writing too. I'm not sure how unusual all of that is.
What authors, or books have influenced you?
That's a bit of a tough question. I guess it's fair to say that everything I've ever read, watched, or experienced has influenced me. If I absolutely must name a few, I'd say everything by Edgar Allen Poe, Bram Stoker's Dracula, James O'Barr's The Crow, William Shakespeare's tragedies, Sir Arthur Conan Doyle's Sherlock Holmes stories, Stan Lee's work, Chris Claremont's X-Men days, and Kevin Smith's work.
What are you working on now?
I'm currently working on a short story to serve as a prequel to The Alpha & The Omega, and working on some cover designs for friends. I'm also outlining the second book of the The Red Moon Rises series to be written during NaNoWriMo.
What is your best method or website when it comes to promoting your books?
I really don't have an answer for that. I'm still new to this all. I've learned a lot from the good folks at Kboards and GoodReads. I have also been using Facebook and Twitter. Since I dove head first into this, I'm still figuring things out.
Do you have any advice for new authors?
Don't wait. Don't just dream, but capture the dreams. Make the things you love work for you. I really feel you'll be happy. With peace comes great understanding, and that's what makes good stories, in my opinion.
What is the best advice you have ever heard?
Life's short. Do what you love. Love what you do.
What are you reading now?
Gaia Dreams by my friend, Pamela Davis, and The Memoirs of Sherlock Holmes. I'm also referencing several books on self-publishing, including The Indie Author Guide by April L. Hamilton.
What's next for you as a writer?
I plan to continue The Red Moon Rises series. I also hope to collaborate with another artist on a future comic book project either involving The Red Moon Rises or superheroes featuring strong Hispanic role-models. I'm also in preliminary discussions of a possible Sci-Fi project with a colleague.
What is your favorite book of all time?
That's easy. Hands down, Bram Stoker's Dracula.
Author Websites and Profiles
J. Rivera-Perez Website
J. Rivera-Perez's Social Media Links
Goodreads Profile
Facebook Profile
Twitter Account