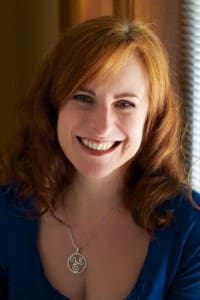 Tell us about yourself and how many books you have written.
I used to be a small-town country girl, but now I live quite happily in Kitchener, Ontario, Canada with my family. I began writing in high school, but in my twenties real life hit and time for things like creative writing just kind of fell by the wayside. About three years ago I got inspired to start again and quickly realized how much I'd missed it, and how many stories were brewing inside of me, just fighting their way to get out. So far I have only completed one novel, but I am about two-thirds of the way through the first draft of my second book, and have ideas for several others in my head.
What is the name of your latest book and what inspired it?
My first novel is called "Promises and Other Broken Things". I was inspired to try to write a story about a difficult and sensitive subject – adultery – from the dual points-of-view of the people involved, and how they eventually got to the places in their lives where they made the decisions they made. So many people feel the issue is very black and white, and I wanted to show how sometimes, in certain situations, these things aren't so cut and dried, wrong and right, and that the people involved, although they do end up making some bad choices, are not always horrible, unforgivable jerks.
Do you have any unusual writing habits?
I have some bad writing habits, but I don't want to detail them here in case others are inspired to do the same things! haha No, nothing really unusual. I write in fits and bursts when I'm inspired, and can often go weeks without writing anything. During those times, I go back and edit existing writing, and that often gives me the inspiration to want to work on fresh stuff again.
What authors, or books have influenced you?
Stephen King, J.K. Rowling, Christopher Moore, to name just three. While all three are *very* different, not only in terms of the types of books they write, but also their voice and style, I love reading each of them for different reasons and often find myself greatly inspired by their words and the feels they evoke in me.
What are you working on now?
I'm working on my second novel, which is more of a Young Adult/New Adult romance. It's very different from "Promises and Other Broken Things", but that's exactly why I wanted to write it. It's a story about a teenage girl in a small town in the mountains who anonymously writes the love advice column for the local paper. She starts a private correspondence with a bitter and depressed young man whose lover had left him for him brother, and as they get to know each other, they help one another comes to grips with, and move past, some of the things that are holding them back from getting out and living their lives.
What is your best method or website when it comes to promoting your books?
I use GoodReads, Facebook and Twitter, mostly. Of the three, so far I feel Facebook is connecting me with my readers the easiest.
Do you have any advice for new authors?
Don't let self-doubt stop you. We all experience it, it's normal, and you just have to keep writing anyway. And then write some more. Talk to other writers, make friends, create your own support group, and ask them for feedback. My ever-so-patient writer friends are the main reason "Promises and Other Broken Things" is the book it is today.
What is the best advice you have ever heard?
Use an editor/proofreader. No matter how many times you look at your own writing, no matter how many errors you correct, sneaky little mistakes will still always find their way through. So it's a really smart idea to always ask someone else with fresh eyes to read it over for you.
What are you reading now?
I'm reading "Mr. Mercedes" by Stephen King. So far I'm quite liking it!
What's next for you as a writer?
Finishing up my second book and then diving into the long editing process for it.
If you were going to be stranded on a desert island and allowed to take 3 or 4 books with you what books would you bring?
"Lamb" by Christopher Moore. "The Perks of Being a Wallflower" by Stephen Chbosky. "The Thief of Time" by Terry Pratchett. "The Stand" by Stephen King.
Author Websites and Profiles
J.S. Eades Website
J.S. Eades Amazon Profile
J.S. Eades's Social Media Links
Goodreads Profile
Facebook Profile
Twitter Account