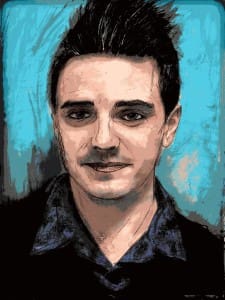 Tell us about yourself and how many books you have written.
Well, let's see. I try to find the positive in all situations, and I'm a pretty basic dude. I've got a family and a dream, which means my family is often hungry… just kidding. Life is good. It's hard to tell about me in such few words, so I'll do just that like this is some sort of relationship site. Interests: writing, reading, hiking, coffee, video games, selective television, and entertaining.
I currently have three main installments with 'The Balderdash Saga' and then four short stories that are part of the series. The shorts act as standalone stories, so you don't have to read the main installments to understand or enjoy them (and vice versa). They are really there to help enhance the characters from the books. The three books are The Underground Princess, The Prince's Plight, and then The Shaman's Salvation.
I also help co-edit an adult horror anthology, but that's been sidelined for the time being.
What is the name of your latest book and what inspired it?
The Shaman's Salvation is the latest installment of The Balderdash Saga, and I would say it was more an inspiration to the series as a whole versus this singular story. The premise behind all of my stories are to try and get kids to read but teach all those important lessons about friendship, love, family, and many other moral and human qualities. I tried to keep the familiar ground of a picture book by having a full page illustration in each chapter, keeping the chapters short and impactful, and the readers hooked by applying the right amount of action and suspense. Before they know it, they've learned a lesson and they feel good about reading. That is what really inspired me.
Then there's this small factor of having a strong love for The Legend of Zelda and Mario and the dynamic of the princess / hero in those stories.
Do you have any unusual writing habits?
One strange bit for me is that when the story starts working itself out, I don't write thoughts down or outlines and instead I take walks and let the days pass. I find myself obsessing over it until it floods my mind, like I'm staring at a problem I can't solve, and then it all just comes together with the snap of some fingers. It's actually quite exhausting to think about it SO much that it's almost literally all I think about for days, weeks, and in one case, years.
What authors, or books have influenced you?
I can't shy away from Stephen King, specifically The Stand. The man has been a huge building block in my author foundation. There are more, though. Kurt Vonnegut, for one, and then Franklin W. Dixon (Hardy Boys), and R.L. Stine. Let's not leave J.K. Rowling out.
What are you working on now?
I'm just finishing up the third short story for The Balderdash Saga, and then I'll be working on an Omnibus edition that will have some exclusive material. That's set to launch in March, 2016. Outside of that, I've got something brewing that's been hounding me for almost two years now. More information will surface on that soon.
What is your best method or website when it comes to promoting your books?
To be honest, because my book series is for children and young adults (though I say ages 6 and beyond), it's hard to promote my books online. Kids just don't access the sites that get my stuff to them. I would have to say that I'm more of a foot-to-the-ground type author. I love doing events and being face to face with people.
Do you have any advice for new authors?
It's advice I once heard, and there is so much truth to it. I've made my own revision of it, but here it is: Rewriting IS writing. Anyone can write a story, especially in this day and age, but the author is who can edit and rewrite and really create a story until it's complete. That is truly separating the wheat from the chaff.
What is the best advice you have ever heard?
I want to say it's the rewriting is writing, and where that's good, I would say what helped me was more life advice. My brother once went through the example of being an apprentice until becoming a master. I'm still an apprentice in this world, and I suspect I will be for a long time yet, but anyone who believes they are a master is a sad thing to me. I would even think that Stephen King still finds himself in the position of an apprentice occasionally. Always strive to become the master, but understand it may never happen. The goal is simply that you work hard and don't give up.
What are you reading now?
Currently I'm reading a couple things. I am doing the Audiobook version of a fantastic story called Anyone? by Angela Scott. I'm reading Mother Night by Kurt Vonnegut, and I'm also slowly rereading the Goosebumps series. It's very sporadic, but they are all on the table.
What's next for you as a writer?
I have a story that's coming out for the young teens and beyond. It's something I've been working on for years at this point, and I'm about to tackle it hard now that I've gotten to write The Balderdash Saga. Still a bit of a secret, though.
If you were going to be stranded on a desert island and allowed to take 3 or 4 books with you what books would you bring?
I would rather be stranded on a dessert island, but I would say The Stand by Stephen King, Slaughterhouse Five by Kurt Vonnegut, and the Harry Potter (I would have to just bring the box set so it counts as one? Does that work here? I hope so cause that would be the worst island ever to only have 1 of the Harry Potter books).
Author Websites and Profiles
J.W. Zulauf Website
J.W. Zulauf Amazon Profile
J.W. Zulauf's Social Media Links
Goodreads Profile
Facebook Profile
Twitter Account