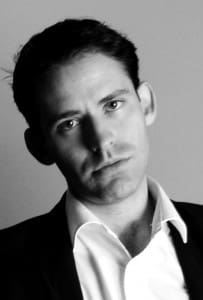 Tell us about yourself and how many books you have written.
I am a writer and composer, though by day I teach choristers about music which keeps me from sinking into a completely self-absorbed state. My writing background is mostly in theatre – I did quite a lot of comedy when I was at university and that developed into various dramatic projects, from a one-man musical tragicomedy to full blown musicals (the composing obviouslydovetails neatly with these). My first was a timely musical about Tony Blair, performed at the Edinburgh Fringe in 2007, but more recently (and I think more successfully) I adapted various short stories by Saki into a full length show called Miracles At Short Notice.
On the back of my Fringe experience I co-wrote a lighthearted guide to the Edinburgh Fringe – called, appropriately enough, Fringe. (This was before the name was appropriated by an American TV show.) My first attempt at a novel started to coalesce around this time, albeit in a very messy and ill-disciplined way, and because I had approached writing it in completely the wrong way it ended up getting stuck in a rut. I abandoned it when I had the idea for what was to be my first published novel, More Tea, Jesus?, which I approached with a clear sense of narrative and therefore managed to finish (though getting it published took a lot longer). However, I later picked up the original attempt and, by cutting through whole swathes of nonsense, managed to turn it into a sprawling, ambitious novel which I am rather proud of, though I have been told it's not very commercial.
What is the name of your latest book and what inspired it?
More Tea, Jesus?: a light comedy about the Second Coming. Inspired, at least partly, by years of singing in an Anglican choir, which brought me into contact with all sorts of extraordinary characters, many of them priests. Essentially, the story grew around the idea of Jesus having returned but the churches being too busy with their internal politics and routines to even notice. The twist being that when eventually they do notice him, they just carry on with their internal politics and routines as normal. As a concept, that in itself would only fill a short story, but as I populated my fictional parish with characters various subplots emerged and it became more of a general satire on the state of the church – and I suppose by extension, the state of society, since a parish church is, in its own quirky way a macrocosm of society. That makes it sound very serious: actually, the whole point of the book is the absurdity of so many of the things we get tangled up in as human beings, whilst perhaps forgetting what's really important. It was fun to see people try to tangle Jesus up in them as well.
Do you have any unusual writing habits?
I suspect it's not unusual at all to put off the actual writing bit of writing for as long as possible – when I start a new project I will get a really nice book to write in and fill it with all sorts of ephemera connected with what I'm going to write – historical background, character breakdowns and possibly whole chapters of backstory that will never get into the final work because none of it will turn out to be relevant. But when I do eventually start writing I find that having created the 'world' makes it all flow much quicker – as does starting the process by hand. Actually, that's probably an excuse for putting off starting writing properly – I'm still intimidated by the blank page.
More Tea, Jesus? was a notable exception, because I was working in a horrid temping job and had no time for any such faffing about. In fact I had so little time that I called in sick, nailed myself to a computer and typed out the first 10,000 words in a day.
What authors, or books have influenced you?
Some obvious comic writers – P. G. Wodehouse, Evelyn Waugh, Tom Sharpe, and more significantly Michael Frayn, Flann O'Brien and, a great master who certainly would have influenced all of the above, Saki. In terms of weaving a narrative and playing with language I find Dickens an incredible inspiration and my (possibly unfashionable) view is that he was the funniest British writer of all.
There are less obvious influences too – at least, I'm assuming they're less obvious – William Burroughs blew my mind when I first picked up his stuff, especially Cities of the Red Night, and I'm a big fan of James Joyce, who wrote my favourite collection of short stories ever with Dubliners. Again less obvious, at least superficially, but to my mind a major influence in weaving a narrative through characters, is Patricia Highsmith.
What are you working on now?
In an attempt to be more commercial, I have turned my hand to children's fiction – not that that's an easy option by any means. Working with children has of course been a great help, seeing what they're reading and listening to what interests them. My feeling is that great children's literature is basically just great literature written in a more accessible style, and I've found that language is the only thing I've really needed to adapt in my approach. Well, and there's less sex. And less politics. Okay, so I've adapted my approach quite a bit, but the things I consider foundational in my writing – narrative and characters – plus my slightly twisted sense of humour, all seem pretty suited to the children's book I've produced.
What is your best method or website when it comes to promoting your books?
I sort of wish I was more interested in self-promotion – of course I understand the necessity, and of course I want people to read my stuff, but in the limited time I have I would always rather be working on the next project than promoting the last one. What I have found useful is blogging, because rather than trying to spring a new work on the internet out of the blue I have been able to built up some kind of regular readership. Twitter has also been a really useful tool, and it genuinely is rewarding to hear directly from people who have read my book – and word of mouth is an invaluable tool.
Do you have any advice for new authors?
Read lots. Write lots. Read what you've written then rewrite it. Rewrite it again. And again. Then get somebody else to read it, somebody you know well and trust, and ask them for honest feedback – and don't be upset when you get it. Then rewrite it again. Don't even think about putting your work into a public arena until it's absolutely as good as you're able to get it by yourself – agents, publishers and readers don't have time to look for potential, they need to see what you've got in the best possible light.
What is the best advice you have ever heard?
"An artist who is inspired is being obvious. He's not making any decisions, he's not weighing one idea against another. He's accepting his first thoughts." – Keith Johnson
I used to find myself crippled by indecision, rejecting one idea after another and never actually writing anything, partly the result of a composition teacher who, quite rightly, taught me to be more self-critical. What I learned by doing improvisation, particularly from the exercises devised by Keith Johnson, was that being spontaneous and being self-critical needn't be mutually exclusive – the most obvious idea is often the one worth developing. That's not to say you don't have to be self-critical with what you end up with (see advice for new authors), but a spontaneous approach frees up the creative process incredibly.
What are you reading now?
The Hundred-Year-Old Man Who Climbed Out of the Window and Disappeared. Enjoying the yarn it is spinning very much, finding the narrative style a bit dry sometimes.
What's next for you as a writer?
Another rewrite of the children's book and a short film project that will hopefully lead to a feature, eventually. I'm also collaborating on an increasingly surreal piece of theatre about Fanny Cradock, which will incorporate cooking (amongst other things).
What is your favorite book of all time?
Too hard to single out one book, but I think it would probably be David Copperfield on the desert island with me. (I mean the Dickens novel, not the magician.)
Author Websites and Profiles
James Lark Website
James Lark's Social Media Links
Goodreads Profile
Twitter Account