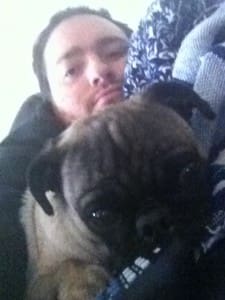 Tell us about yourself and how many books you have written.
This is my first book, but I have published three. 'Inheritance' came out in 2009, and has been revised for Kindle.
What is the name of your latest book and what inspired it?
The full title is 'Inheritance and other Stories.' I'm always inspired by my own life, as all writers are. The problem is I don't realize it until I'm at the editing stage and see protagonists that are these boys and young men in this sort of tortured arrested development. Sometimes I think I need a new schtick, but it's not something I do on purpose.
Do you have any unusual writing habits?
I was just having this conversation with another writer. In fact, I've had this conversation several times. As I'm writing, I consume the most low-brow pop culture trash you could imagine. If the TV's on, it's 'Real Housewives,' or even a daytime talk show – you know those talk shows with endless paternity tests? If music's playing, it's always pop or country, which I'm not a fan of. It's noise, but it's not distracting noise, because I'm not interested in it except in an ironic way. It's also a great way to psych yourself up, if you need to feel really bad about humanity in order to write.
What authors, or books have influenced you?
Surprisingly few. Junot Diaz is my idol, though we aren't similar writers at all. If I'm blocked, I'll read Saul Bellow's "Herzog" to knock the cobwebs out. That usually does the trick. I admire the motifs and themes that authors like William Faulkner and Toni Morrison work with, and have found myself working with them, as well. I'll never be half the writers they are, but it's fun to pretend.
What are you working on now?
I'm also a filmmaker, so that takes up a lot of my time. I'm working on – I think – 5 scripts right now? More if you include script doctoring. I'm in pre-production on my next short film, and I'm supposed to be co-directing a feature film in Toronto this September with a famous Bollywood director. I'm also working on my next novel, 'The Healer.' I ghostwrite novels, and I'm working on my own Kindle Single. This is a dangerous question you've asked. You should see my work space. You'd be horrified.
What is your best method or website when it comes to promoting your books?
Nothing beats word of mouth. Nothing! If you have the money to spend, Facebook sponsored posts do pretty well. But yeah, word of mouth, first and foremost.
Do you have any advice for new authors?
Things have changed so much since even I started, and that wasn't so long ago. I don't think new authors would take advice…they seem pretty confident in themselves, if you know what I mean. Hashtag, 'Kids these days.' But it's true! We're surrounded by special snowflakes, I'm sorry. Plus, everyone's self-publishing now. I'm eager to see what the next gatekeeper is going to be. I suppose the general public has a way of doing that if they absolutely have to. Sometimes, they even pick the right thing. My advice to new authors is, don't listen to anybody but your editor and your creative writing professor. They'll save your life.
What is the best advice you have ever heard?
To not take advice. Everyone's doing it, no matter what 'it' is. Be innovative. Observe the beaten path, but if you know it's going to be agony for you (and for me it usually is), be your own man and don't follow it.
What are you reading now?
I'm reading the Best American Short Stories 2014 right now. There's this one story I love by Callum Wink, called "Breatharians." You ever read a story so perfect you want to vomit? That's the only way I can describe it for you.
What's next for you as a writer?
Hopefully a great big check, and some respect.
If you were going to be stranded on a desert island and allowed to take 3 or 4 books with you what books would you bring?
1. "The Brief And Wondrous Life of Oscar Wao," by Junot Diaz
2. The Fran Lebowitz Reader
3. "Light In August," by Faulkner
4. "Sula," by Toni Morrison
Author Websites and Profiles
Jarod Powell Website
Jarod Powell's Social Media Links
Facebook Profile
Twitter Account