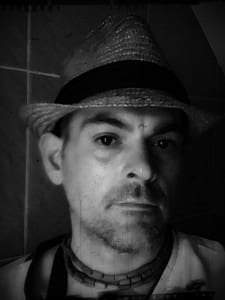 Tell us about yourself and how many books you have written.
I'm just a regular joe. I'm an american living in the Philippines. Don't speak the language that well, which makes it difficult sometimes. How many books have I written? On paper? I average a book a night trying to sleep, but those never make it to paper. I'd have to say 4 and a half books so far on paper. Only a couple of those published.
What is the name of your latest book and what inspired it?
Thirteen Years of Dust. The inspiration came from my love of mystery and my battle with addictions. My major influences would be Bogart, Jack Webb, Rod Serling, and of course, Raymond Chandler.
Do you have any unusual writing habits?
Yes. I walk around alot when I write. I sit and write a few hundred or a thousand words in one spurt then I have to stand up and walk around. When I am in the notebook with pencil I write standing up. I'm a walker. And I can't write in silence. I need distractions. Sounds strange I know, but it keeps my logical mind busy while my creative mind works. Sometimes I watch Tv when I write. I am a multi tasker–I cannot do unitasking.
What authors, or books have influenced you?
So many! Chandler, Krouac, Henry Miller, Some Hemmingway, Dostoyevski. I remember when I read The Cathcer in the Rye in tenth grade I said "This is what I want to do!" And I love the classics. Christie, Doyle to name a couple.
What are you working on now?
The second Duke Bradley mystery entitled "Harmony"
What is your best method or website when it comes to promoting your books?
When my books sell, I'll let you know.
Do you have any advice for new authors?
Don't give up and don't rush it. Take your time or you will end up going back fixing and fixing. And learn to copy edit on your own. Those guys charge an arm and a leg.
What is the best advice you have ever heard?
My grandfather once told me–If you don't think about the bad things they won't happen.
What are you reading now?
Desolation Angels by Jack Kerouac and Big Sur and the Oranges of Hieronymus Bosch by Henry Miller.
What's next for you as a writer?
Who knows? Just going to keep writing the Duke Bradley series and see what develops.
If you were going to be stranded on a desert island and allowed to take 3 or 4 books with you what books would you bring?
A crosswords puzzle book–a thick one. A dictionary to help with the crosswords. The Bhagavad Gita and any book with 1001 tales of something in it.
Author Websites and Profiles
Jeffrey M. Thompson Jr. Website
Jeffrey M. Thompson Jr. Amazon Profile
Jeffrey M. Thompson Jr.'s Social Media Links
Facebook Profile
Twitter Account