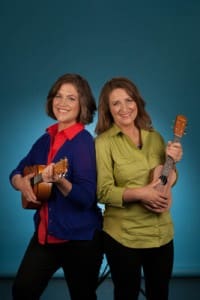 Tell us about yourself and how many books you have written.
Jenny Peters grew up in northern California and got her Masters in Piano Performance from the University of Illinois. Soon a career change took her from teaching piano into the public schools as a general music teacher. A few years ago, she found 45 ukuleles in her classroom and wanted to figure out how to use them in her classes. After taking a beginning ukulele class she came up with a new way for everyone to learn ukulele successfully. Her students moved from simple folk songs to popular songs in nine months with 30 minutes weekly in a large class with almost no home practice. Jenny's ukulele program is very successful and the students performed Home by Phillip Phillips, Over the Rainbow, New Soul, and Rock Around The Clock at the school's annual Spring Sing. Rebecca Bogart, Jenny's sister, earned her Masters in Piano Performance from the San Francisco Conservatory of Music, and teaches piano privately in the San Francisco Bay area. After applying the smart practicing techniques explained in this book for more years than she wants to admit, she recently won an international piano competition and will perform in Carnegie Hall 2/2
What is the name of your latest book and what inspired it?
"21 Songs in 6 Days: Learn Ukulele the Easy Way" is the name of my latest book. I co-wrote it with my sister, Rebecca Bogart, who is also a professional musician. I have been teaching ukulele for several years in large public school classes, and wanted to tell other people how awesome the ukulele is for both groups and individuals. Because traditional string teaching methods did not work, I developed my own method. Working with my sister was fascinating, because I was able to see the process of learning something new through the eyes of someone who could talk about the process. Kids give a teacher feedback by acting up if something is too hard, too easy, too boring, too childish; but they cannot articulate what is difficult. Rebecca was able to articulate the learning process in an understandable way, and helped me to make my method of teaching ukulele even better!
Do you have any unusual writing habits?
Not really. My sister and I work well together and can write for long, concentrated periods of time. I find I do my best work around 5:00 AM.
What authors, or books have influenced you?
I love J.K. Rowling and all of the Harry Potter books. My favorite fiction genre is sci-fi and fantasy. I also love to read about adventure travel.
What are you working on now?
I am working on finishing up this eBook and getting a print edition to go along with the eBook.
What is your best method or website when it comes to promoting your books?
We use FaceBook, LinkedIn, Google +, Twitter and our own website ukulele.io to promote our books.
Do you have any advice for new authors?
Hang in there. If you have a good idea, keep writing. You can always edit later.
What are you reading now?
I am reading eBooks about technology and learning how to market eBooks. For my "fun" reading, I enjoy "Adventure Cyclist," "Silent Sports," and anything about adventure travel.
What's next for you as a writer?
When "21 Songs in 6 Days: Learn Ukulele the Easy Way" is successfully launched, I would like to start a Book 2 and a Holiday Song book for ukulele. I would also like to co-write a similar method of teaching for guitar.
Author Websites and Profiles
Jenny Peters Rebecca Bogart Website
Jenny Peters Rebecca Bogart Amazon Profile
Jenny Peters Rebecca Bogart's Social Media Links
Facebook Profile
Twitter Account
---
Author Interview Series
To discover a new author, check out our Featured Authors page. We have some of the best authors around. They are just waiting for you to discover them. If you enjoyed this writer's interview feel free to share it using the buttons below. Sharing is caring!
If you are an author and want to be interviewed just fill out out Author Interview page. After submitting we will send it out in our newsletters and social media channels that are filled with readers looking to discover new books to read.
If you are looking for a new book to read check out our Featured Books Page.