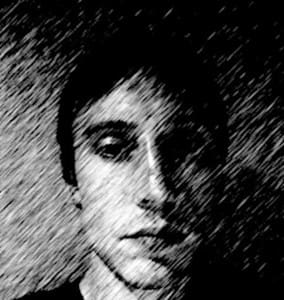 Tell us about yourself and how many books you have written.
I am a Southern California-based writer of horror, SF, thrillers and bizarro fiction. My bibliography includes The Fetus and Other Stories and The Phantom Cabinet, as well as "Sacrificial Version" from Into the Darkness: Volume One.
What is the name of your latest book and what inspired it?
My latest book is The Phantom Cabinet. It was inspired by recurring childhood nightmares and a lifelong love of poltergeist fiction.
Do you have any unusual writing habits?
Occasionally, I'll drink way too much coffee and go into full-blown caffeine convulsions, which results in me generating ideas for half a dozen stories simultaneously.
What authors, or books have influenced you?
H.P. Lovecraft, Grant Morrison, Stephen King, Alan Moore, Thomas Ligotti, Bentley Little, Peter Straub, J.D. Salinger, Peter David, Chris Claremont, Clive Barker, Warren Ellis, Jonathan Hickman, Michael Marshall Smith, Robert McCammon, Rod Serling, Richard Kelly, David Lynch, John Carpenter, Ray Bradbury, Neil Gaiman and Richard Matheson.
What are you working on now?
I am editing two novels (one horror, one thriller), and writing a new story featuring Professor Pandora, the villain from "Sacrificial Version."
What is your best method or website when it comes to promoting your books?
Goodreads giveaways, my publisher's subscriber emails, and contacting indie book reviewers.
Do you have any advice for new authors?
Get used to rejection.
What is the best advice you have ever heard?
Avoid overly formal dialogue.
What are you reading now?
Warren Ellis' Gun Machine and Grant Morrison's The Doom Patrol Omnibus.
What's next for you as a writer?
A science fiction thriller featuring Investutech, the number one threat to our multiverse.
If you were going to be stranded on a desert island and allowed to take 3 or 4 books with you what books would you bring?
H.P. Lovecraft: Tales, Stephen King's The Tommyknockers, Grant Morrison's The Invisibles Omnibus, and X-Men: Messiah Complex.
Author Websites and Profiles
Jeremy Thompson Amazon Profile
Jeremy Thompson's Social Media Links
Goodreads Profile