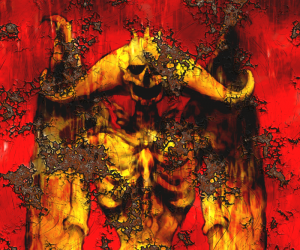 Tell us about yourself and how many books you have written.
SUMMER OF RAGE AND CONFUSION is the first work of fiction I've completed for publication. I've written several technical manuals, but no one cares about them.
What is the name of your latest book and what inspired it?
SUMMER OF RAGE AND CONFUSION was heavily influenced by the pornographic paperbacks I found hidden in my dad's closet when I was a kid, violent hard-boiled detective pulps, science fiction adventures of the cheesiest variety, every comic book in the world, and a fascination with freaks, gore, sexual experimentation and transgressive, squirm-inducing cinematic entertainment such as early John Waters films and countless splatter movies such as TOKYO GORE POLICE.
Do you have any unusual writing habits?
Probably not. I outline the major events of a book, create a list of major sequences that nail the book down, and complete from 1000 to 5000 words a day. I go over the book three or more times to refine and clarify, and then hire an editor to iron out any major remaining problems.
What authors, or books have influenced you?
(In no order) Early Dean R. Koontz (his weird, sexy science fiction before he became a Stephen King imitator), Piers Anthony, Roger Zelazny, Mickey Spillane, early Clive Barker for the gore sequences, Harlan Ellison, late era dirty-old-man Robert Heinlein, and too many others to list.
What are you working on now?
SUMMER OF RAGE is the first in a series. There is one prequel outlined, one sequel currently being written, and two more sequels outlined.
What is your best method or website when it comes to promoting your books?
I am just now tackling that part of the job, so I'm not sure yet. Awesomegang is, of course, very helpful.
Do you have any advice for new authors?
As a new author myself, that would be pretentious of me.
What is the best advice you have ever heard?
The truth hurts, so keep away from it.
What are you reading now?
Bone: The Complete Cartoon Epic in One Volume by Jeff Smith, and the Mike Allred Silver Surfer comics from 2014-2015
What's next for you as a writer?
The sequel to SUMMER OF RAGE AND CONFUSION is now being written. It will take place in Hollywood! Lots of Hollywood things will happen, including gooey sex and gooey murders. Bring your throw-up bag! It will be cool and super-realistic like the first book.
If you were going to be stranded on a desert island and allowed to take 3 or 4 books with you what books would you bring?
Can I take a tablet and a hand-crank generator instead? I have about 3000 books on my tablet. That would be way better than just three or four books.
Author Websites and Profiles
Jericho Carny Website
Jericho Carny Amazon Profile
Jericho Carny's Social Media Links
Facebook Profile
Twitter Account