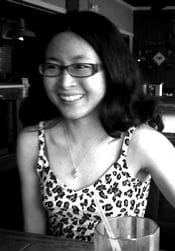 Tell us about yourself and how many books you have written.
I write psychological thrillers and am a sociopolitical blogger. I have written several anthologies, along with novels in various genres. My first book was a blog novel!
My current focus is on crime fiction and psychological thrillers because I enjoy exploring the darker side of human nature. My first psycho thriller series is a trilogy titled "The Wilde Twins." It's about an "evil twins" serial killing team, and the story begins in their childhood days.
What is the name of your latest book and what inspired it?
My latest publication is 'Owned', a freebie on murder short stories. I realized one day that several of my short stories contained the theme of murder, so I gathered them into a compact eBook collection which explores how and why people are driven to kill.
Do you have any unusual writing habits?
I like to have a bottle of moisturizer nearby. Somehow it is relaxing, to have my hands look and feel smooth while I'm typing away at a computer. That being said, I enjoy disrupting the writing process sometimes to move around or do a bit of exercise/stretching. A sedentary lifestyle is not exactly the best thing.
What authors, or books have influenced you?
Too many to list. Some of my favorite authors include Poe, Oscar Wilde, Roald Dahl, Stephen King, Jackie Collins. If a writer's work moves me emotionally, it's bound to have an influence on me.
What are you working on now?
I will be writing some short stories to contribute to The Mind's Eye series. It's a collaborative project that brings together a small group of photographers, poets, and writers. I'm so glad to be included in the team behind the third installment.
What is your best method or website when it comes to promoting your books?
From what I've observed, getting the genre and book cover right is of absolute importance. Writing a great story is valuable, but if it stays hidden or buried by tons of other books, few people are going to discover it.
In terms of sales and readership, books should fit in a clearly-defined niche in the commercial marketplace so that you can promote them to the right target audience in order to increase its visibility.
Do you have any advice for new authors?
Refer to the above question.
What is the best advice you have ever heard?
To observe the people whose success you would like to emulate, and to maintain a positive attitude.
What are you reading now?
My draft notes for a review on Beyond Suspicion, by Francis Seow (former solicitor-general of Singapore).
What's next for you as a writer?
I'd like to start working on my next psychological thriller series later in the year, if possible. In 2012 I was a participating author in a writers' festival. I hope to take part in a crime-related writing panel some time in the future!
If you were going to be stranded on a desert island and allowed to take 3 or 4 books with you what books would you bring?
They would certainly be anthologies or thick books, so that I could take my time reading them on the island while relaxing in a shady spot overlooking the clear blue sea.
Author Websites and Profiles
Jess C Scott Website
Jess C Scott Amazon Profile
Jess C Scott Author Profile on Smashwords
Jess C Scott's Social Media Links
Goodreads Profile
Facebook Profile
Twitter Account