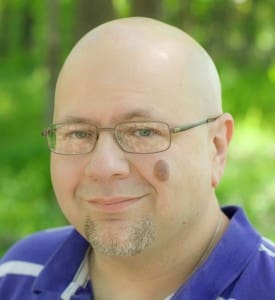 Tell us about yourself and how many books you have written.
I'm a substitute teacher, member of the Arkansas Arts Academy school board, and, of course, an author. I live in Rogers, Arkansas (right next door to Bentonville, where Wal-Mart is headquartered) with my wife and son and three cats. I've published four books: Small Things, Small Things 2: Threads, Memories of a Ghost, and Odds and Endings: Fiction Short and Otherwise.
What is the name of your latest book and what inspired it?
Odds and Endings: Fiction Short and Otherwise is my first short story collection, containing 12 short stories and one novella. I've always loved reading and writing short stories. one of the stories, Smoke, ties in with the Small Things universe, while the novella, Merryland, is tangentially related to Memories of a Ghost.
Do you have any unusual writing habits?
I tend to set all of my books and stories in the same universe, and many in Carthage, Illinois, where I grew up, or Rogers, Arkansas, where I currently live. As for unusual writing habits, I rarely if ever use outlines. I will usually go back and outline a book after I've finished writing it, to make sure the continuity all matches up, but I tend to deviate rather strongly from outlines if I write them pre-book, so I've learned to just do them at the end.
What authors, or books have influenced you?
Rod Serling, creator of television series The Twilight Zone, is probably my biggest influence, followed by Ken Grimwood, Stephen King, Charles de Lint, and Jonathan Carroll. The last two are especially good at connecting their characters and books to their other characters and books, something I often emulate.
What are you working on now?
The third and final book in the Small Thing trilogy, something my fans have been (im)patiently waiting for since Threads was published in 2013!
What is your best method or website when it comes to promoting your books?
My greatest weakness in terms of writing is my promotional skills, or lack thereof. I mainly stick to Facebook and Twitter for promoting, but am trying to expand my horizons.
Do you have any advice for new authors?
Keep writing, and participate in National Novel Writing Month (NaNoWriMo) each November. It really does motivate you!
What is the best advice you have ever heard?
Don't give up.
What are you reading now?
I just finished the umpteenth Agent Pendergast book, Crimson Shore, by Douglas Preston and Lincoln Child, and am about to delve into The Bazaar of Bad Dreams, Stephen King's newest short story collection.
What's next for you as a writer?
To become rich and famous, of course!
If you were going to be stranded on a desert island and allowed to take 3 or 4 books with you what books would you bring?
Replay by Ken Grimwood, 11/22/63 by Stephen King, The Time-traveler's Wife by Audrey Niffenegger, and whatever book of my own that I currently had in progress, so I couldn't endlessly edit it until I got rescued!
Author Websites and Profiles
Joe DeRouen Website
Joe DeRouen Amazon Profile
Joe DeRouen Author Profile on Smashwords
Joe DeRouen's Social Media Links
Goodreads Profile
Facebook Profile
Twitter Account