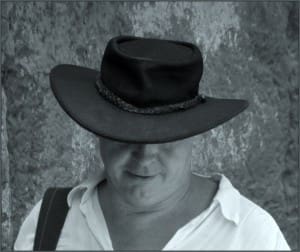 Tell us about yourself and how many books you have written.
I originally hail from a small town in the North-East of England. Well, somebody had to be born there. I suppose I should be grateful I don't have two heads (especially as I only possess one hat).
For most of my working life I've been in the power business, running operations in Europe, Africa, South and Central America and Asia. My wife and I are currently based in Thailand, although we do get back to the UK from time to time because we miss the cold, miserable weather, the lousy public transport and the outrageously exploitative and unfair tax system. You get the picture, right?
I have two full-length novels out, both published by Tention Books, namely 'Everyone Burns' and 'Hungry Ghosts' – these are the first instalments in the 'Time, Blood and Karma' series. They are mystery/thrillers, set in Thailand. I also have a (very) short story entitled 'Jim Fosse's Expense Claim' which is available free on Smashwords, but you'd need to be a psycho to fully appreciate it.
Did I mention I usually wear a hat?
What is the name of your latest book and what inspired it?
My latest book is 'Hungry Ghosts' (published August 2013), which continues the (mis)adventures of PI David Braddock in Bangkok and on the island of Samui. As with my first book it was inspired by the magical and occasionally surreal culture of Thailand and its people, although a debt of gratitude is also owed to the film noir genre.
Do you have any unusual writing habits?
I have lots of unusual habits but none of them concern writing. I can't really talk about them though in view of the pending court case.
What authors, or books have influenced you?
Graham Greene, Evelyn Waugh, William Boyd, Haruki Murakami, and a whole host of other writers and British stand-up comedians.
What are you working on now?
I have just started writing the third book in the 'Time, Blood and Karma' series entitled 'A Poison Tree'. It will be hitting the shelves next year, so don't start holding your breath yet.
What is your best method or website when it comes to promoting your books?
I do a lot of tweeting and retweeting of fellow Indie authors and I run my own blog. I don't really have a favoured website. I prefer to spread the lurve.
Do you have any advice for new authors?
Grow a thick skin, support fellow Indie writers and regard this whole thing as a marathon not a sprint. Don't get discouraged. Write the best damn books you can and don't rush them to market before they are properly formatted and edited. Also do your research.
What is the best advice you have ever heard?
"Never eat anything that looks like vomit. Unless it's pizza."
What are you reading now?
Nothing. I'm writing.
What's next for you as a writer?
I guess I'd better get out of bed and maybe have a cup of coffee.
What is your favorite book of all time?
"The Golden Bough" by James Frazer.
Author Websites and Profiles
John Dolan Website
John Dolan Amazon Profile
John Dolan Author Profile on Smashwords
John Dolan's Social Media Links
Goodreads Profile
Facebook Profile
Twitter Account