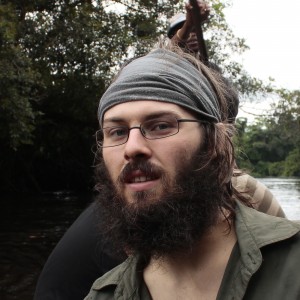 Tell us about yourself and how many books you have written.
I am a Zoologist and now an author. I travel to some of the more remote locations on the planet for work. Having spent nine months studying wild bonobos I then went on to be a safari guide in South Africa. I have also worked in Mauritius as warden of world renowned Round Island and more recently I have been habituating lowland gorilla in Gabon. I have an interest in animal behaviour, film making, photography and writing. To date I have written only my first book but have many more planned.
What is the name of your latest book and what inspired it?
My latest book is: A Zoologist's Stumblings In Africa: How to Habituate a Bonobo. It is about my time living in the Congolese rainforest with wild bonobos. When people hear where I have been they ask for stories. I decided I had so many that I would put them to page so many other people can enjoy them. I also wanted to continue supporting the wild bonobos in some way so decided a portion of my proceeds would go to bonoboalive charity.
Do you have any unusual writing habits?
I like to write in the wild. Most of my last book was written on a desert island and in a tropical rainforest sitting beside a lagoon. I find being in nature relaxes me and lets me concentrate on my writing. As I write about nature I can glean influence from my surroundings as I write.
What authors, or books have influenced you?
Gerald Durrell is a big influence. His books on conservation are both hilarious and inspiring. We need people like him in the modern age.
What are you working on now?
I am now writing a book on a collection of my encounters with wild animals across the planet such as being chased up a tree by elephants or waking up with a snake on my pillow.
What is your best method or website when it comes to promoting your books?
So far facebook has been my best way to promote my work as well as sites like awesomegang. My own site too has been useful in promoting my work.
Do you have any advice for new authors?
Keep at it and write about what you know and enjoy. I write as I like to think back on past experiences.
What is the best advice you have ever heard?
Don't run whatever you do. This applies both to working with animals and writingStick at it even when it seems you are getting nowhere.
What are you reading now?
Right now I am reading the Improbable Trilogy of books and have just started the third in the series title "The Fortress of Improbable Destiny"
What's next for you as a writer?
I hope to venture to somewhere remote and have more animal encounters to write about.
If you were going to be stranded on a desert island and allowed to take 3 or 4 books with you what books would you bring?
I have been (well I worked on one). I took Jurassic Park by Michael Crichton , Blue Horizon by Wilbur Smith, Edge of the Rain by Beverly Harper and My Family and Other Animals by Gerald Durrell.
Author Websites and Profiles
John Matthew Stritch Website
John Matthew Stritch Amazon Profile
John Matthew Stritch Author Profile on Smashwords
John Matthew Stritch's Social Media Links
Goodreads Profile
Facebook Profile