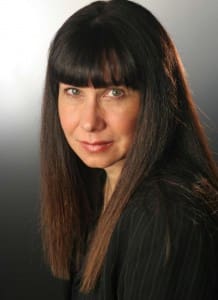 Tell us about yourself and how many books you have written.
By August 2014, I will have eighteen novels published, and three non-fiction books. As for the novel, they span glam lit (True Hollywood Lies, Impossibly Tongue-Tied), mommy lit (the Totlandia Series, The Baby Planner) contemporary women's fiction (Secret Lives of Husbands and Wives), a political thriller (The Candidate) and The Housewife Assassin's Handbook series, which are nine humorous romantic suspense novels.
What is the name of your latest book and what inspired it?
My latest book is "The Housewife Assassin's Deadly Dossier." It's a full length prequel to my seven-book Housewife Assassin series.
Whereas the series is written in the heroine, Donna's, first-person voice, for the prequel I put it from the point-of-view of the hero, and in third person, so that the reader will live through the action that led up to Donna becoming an assassin.
I've been pleased with the reviews. They let me know I accomplished my goal: to dovetail the Donna her readers know with the woman whose husband's death led to such deep despair that it changed the course of her life, and that of her young family's.
Do you have any unusual writing habits?
I wouldn't call my writing habits "unusual," but "essential." For example, I do a full outline before starting each book. That way, I won't get stuck and miss my deadline. The outline breaks up the plot into actual chapters within the traditional three-act arc.
Also, I find it easier to write as night, as opposed during the morning. I'm working on that. It may help me have less vivid dreams, LOL!
What authors, or books have influenced you?
I love John Le Carre's books on espionage, as well as Martin Cruz Smith's Arkady Renko Russian crime mysteries. Both have great plots, know their subjects well, and wonderful literary phrasing that takes them beyond the realm of genre mysteries and thrillers. I've just discovered Neil Russell, and I'd put him in this category as well. His latest novel, "Beverly Hills Is Burning," is a true tour de force, melding historical Hollywood with a thrilling present-day mystery.
As for the classics, I love Edith Wharton, F. Scott Fitzgerald, Jane Austen, and of course Agatha Christie and Sir Author Conan Doyle.
What are you working on now?
I'm finishing up Book 8 of my series, "The Housewife Assassin's Killer Ap," Which is available in August 2014. I have a million stories for Donna. It makes me proud that the readers clamor for more.
What is your best method or website when it comes to promoting your books?
Thanks for asking! You can find me…
On Facebook: https://www.facebook.com/josiebrownauthor
On Twitter: http://www.twitter.com/JosieBrownCA
My Websites: http://www.josiebrown.com and http://www.housewifeassassinshandbook.com
My Blog: http://www.housewifeassassinshandbook.com
Do you have any advice for new authors?
Don't be afraid to write the book YOU'D want to read.
You are the best judge of what you should be writing: not an editor, not an agent, not a trend, not your mother. Not even your best friend.
YOU.
During NaNoWriMo, I put up thirty-one tips, one for each day, for other authors, both aspiring and published. We all need to remember why we put in the hard hours–and our hearts on ours sleeves-as we scribble away. This way, I share my thoughts on the industry, now some seven years and eighteen novels later.
Readers will find them here: http://www.authorprovocateur.com/2013/11/my-nanowrimo-tips.html
What is the best advice you have ever heard?
It came from author Stephanie Bond: "Keep writing, and publishing. It's how readers find your, love your books, and spread the word about your books."
What are you reading now?
It's non-fiction: Garson Kanin's "Hollywood," which is chockfull of wonderful anecdotes about the golden age of Hollywood–a favorite time period of mine, and the subject of future novels.
I'm also reading Aimee Bender's "The Particular Sadness of Lemon Cake." It came out the same year as my novel, "Secret Lives of Husbands and Wives," but I was so wrapped up in my book tour that I never got around to reading it. So far, I love it for its lyrical phrasing.
What's next for you as a writer?
Research and outlining Books 9 and 10 of the Housewife Assassin series.
If you were going to be stranded on a desert island and allowed to take 3 or 4 books with you what books would you bring?
Gone With the Wind (I've read it thirteen times); An F. Scott Fitzgerald anthology of his novels and stories. "The Night Porter" by John Le Carre, and an anthology of Raymond Chandler novels. All I can say is, "Thank goodness for eReaders" so that we never have to choose only four!
Author Websites and Profiles
Josie Brown Website
Josie Brown Amazon Profile
Josie Brown's Social Media Links
Goodreads Profile
Facebook Profile
Twitter Account
Pinterest Account