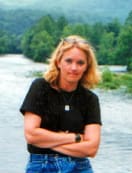 Tell us about yourself and how many books you have written.
Hello! My name is Judith A. Yates and I am a criminologist who has written, studied, and lectured on crime for over 20 years. I was also employed as a private investigator, with the Sheriff's department, with the Federal Bureau of Prisons, in loss prevention, and as an instructor. Currently I am a true crime author who recently wrote and self published my first "official" book. it is receiving good reviews and I worked three years on the project.
What is the name of your latest book and what inspired it?
"The Devil You Know." A friend of mine who operated a nonprofit missing/murdered children's group notified me of a man who was petitioning for clemency for the murder of a young boy. I write for examiner.com and she wanted me to write an article on this man's crime and why he does not deserve clemency. One article led to another and I was so moved by the story. The victim was not out selling dope or carrying a gun; he was not a beauty queen or famous person's child. he was a GOOD kid who – like so many child victims – trusted the wrong person.
Do you have any unusual writing habits?
Ha Ha writing IS unusual. I am at my most creative late, late at night. My Great Dane is always asleep at my feet. Is that unusual?
What authors, or books have influenced you?
Oh my gosh, that is so hard to answer. Mara Leveritt is a master at research. Cathy Scott gave me friendly advice and I am proud to call them both "friend." Lowell Cauffiel is someone to emulate – he gave me the best advice on doing my research and taking my time rather than churn out "stuff." He's awesome! And he makes me laugh. Burl Baer is such a good person, as is Michael Tabman. They all taught me something different.
What are you working on now?
I looked hard for my next project and some years ago my students had worked on the Dennis Reid case. He is a serial killer here in Nashville who has been given celebrity status of sorts. Being a victim's advocate and wanting to teach something in my work, I am focusing on the case from the victim's standpoint; I am researching victim's dynamics and talking to everyone I can to tell the victim's stories.
What is your best method or website when it comes to promoting your books?
I stopped reading what is good and not good (Facebook versus Goodreads versus..). I use everything. I created business cards about the book. I got the gift of gab from my grandfather, so I strike up conversations with strangers and sometimes give them my card. I leave cards everywhere. I love meeting readers so do presentations. I do public speaking on crime. I donate books as door prizes. Everything is a potential advertisement.
Do you have any advice for new authors?
Listen to professionals. This is why I am having the True Crime Workshop in February: authors, law enforcement, publishers, etc. will be discussing best practices. When it comes to true crime, remember the victims. Don't write just to see your name on a book; write to teach. Most important: don't let anyone tell you "no"…
What is the best advice you have ever heard?
"Research, and research your research" from Lowell. And my mother read to me at night and thus began my love of books.
What are you reading now?
I have an eclectic interest in books. I am reading the life story of Rasputin and just finnished Eric Larson's newest. But when I am writing it is hard to read anything else except research and interview notes.
What's next for you as a writer?
the Nashville, TN. True Crime Workshop. I am SO excited. Our focus is gathering authors, fans, and future authors with law enforcment for the purpose of maintaining the quality of true crime. Truecrimeworkshop.com
What is your favorite book of all time?
Again, that is a hard one. Who wrote this! LOL. I have memorized most of J.D. Salinger's stuff and "The Great Gatsby." Lowell's "Forever & 5 Days" I have read several times because "did they or didn't they?" And of course, "The Devil You Know" because of the people I have met in the project.
Author Websites and Profiles
Judith A. Yates Website
Judith A. Yates Amazon Profile
Judith A. Yates's Social Media Links
Goodreads Profile
Facebook Profile
Twitter Account