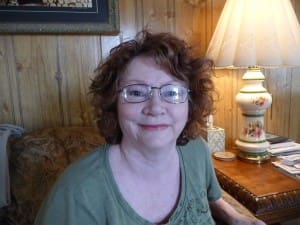 Tell us about yourself and how many books you have written.
I started writing when my daughters were in diapers and my husband (because he loves me and wanted me to stay sane) signed me up for a continuing education course called Writing For Fun and Profit. The instructor loved an article I wrote and suggested I send it to Byline magazine. Two weeks later, I got a check in the mail. I remember looking at my husband and saying "Writing is easy!" The joke was on me. I wrote short stories for years after that and rejoiced when someone offered me free copies when he/she included one of them in an anthology or magazine. It took a long time before I tried to write a novel. I didn't think I could do it. And I couldn't on my first or second tries. But eventually, I got there and I wrote quite a few mysteries that "almost" sold. I kept writing cozies when there wasn't a market for them until I finally got smart and looked at what editors were actually buying. And that's when I found urban fantasy. I LOVE writing about supernaturals with magic and special powers. I've written for a long time now, weaving writing time between kids and the stuff of Life. I now have 5 e-books online and 5 series of novellas (I still love writing short). I also love kids, and I love to cook. My kids have moved out of the house, but I still cook big pots of soups and big skillet meals. I'm learning to freeze more food and scale down portions…but I'm not there yet:)
What is the name of your latest book and what inspired it?
My latest novel is Shadow Demon. I wanted to write a book that involved witches, gargoyles, and werewolves all teaming together to fight one, powerful enemy. And I wanted the warlock they're facing to be so strong and so cruel that he makes a demon look nice.
Do you have any unusual writing habits?
I went to a writing conference once to hear Mary Higgins Clark as the featured speaker, and at that time, she said that she stays in her pajamas until noon every day until she gets her page count done, so that she's not tempted to avoid writing by doing household chores or taking off to meet a friend. I liked that advice. Once I'm dressed, I can think of every little thing that needs done around the house. But in my pj's, I plop my fanny in my chair and write. Of course, if a friend drops in before noon, she'd better be a true friend. Because I don't look pretty.
What authors, or books have influenced you?
When I was in middle school, I read every James Fenimore Cooper novel about Natty Bumpoe and the Mohicans. Later, I went through my Agatha Christie phase. She led me to Nancy Pickard and Elizabeth George. I love their use of language. I studied how they put books together and developed characters when I started writing mysteries. And then I found Patricia Briggs, Ilona Andrews, and Faith Hunter and started on the slippery slope of writing urban fantasy.
What are you working on now?
I just finished two novellas to put in my Babet & Prosper Collection II. Out of all the things I write, Babet and Prosper have to be my favorites. There's something about River City as a setting with magic and voodoo that floods my mind with ideas. Now, I'm in the "start up" phase of plotting the third Enoch and Voronika novel in my Fallen Angels series. I like writing those novels. They're more serious with more angst than I usually write. Enoch feels that he's messed up and has to redeem himself and hopefully, someday, save Caleb so that they can go Home together. But the more time he spends on Earth, the more he becomes fond of mortals and good vampires, so he's torn.
What is your best method or website when it comes to promoting your books?
I love to write. I'm not so good at marketing. So I'm just now starting to feel my way with promoting. I'm a slow learner, and it's finally dawned on me that I can write all kinds of books that I love, but if people don't find them, what was the point? I want readers to find my work and characters, and–if I'm lucky–love them as much as I do. I'm having some luck at twitter, and I've learned a lot from Rachel Thompson and Lindsay Buroker's blogs. I write a blog myself, but it's more about sharing writing tips. I belong to a writers' group that I love, and I've learned so much from the feedback we give one another that I wanted to share. I've learned a lot from Goodreads, too. The members are such passionate readers that their comments about what they like or don't like about books fascinates me–and they encourage authors to promote their own works. It's been a real eye-opener for me.
Do you have any advice for new authors?
If they're like me, they write because they're addicted to it. First, I'd say Write the best book you can write. But more than anything else, just write. You can study craft books and techniques and study markets, but when it gets down to it, you learn by doing. So just do it. And you'll get better the longer you work at it. If you can, get some honest feedback. Critiques hurt at first, but you learn from them. You don't have to agree, but they make you look at your book through someone else's eyes. Then, I'd say Study the markets and, once your book's ready, get it out there. And once you do that, understand that no one will find it if you don't let them know it's there. So give it a good shot at finding readers. Don't let it just sit there and disappear.
What is the best advice you have ever heard?
I went to our local library to hear Kurt Vonnegut speak, and a young guy stood up and said, "I want to be a famous writer. What should I do?" Vonnegut said, "Don't quit your day job or marry rich." True words of advice.
What are you reading now?
Prince of Thorns, by Mark Lawrence. It's dark with a hero who's more of an anti-hero, at least, so far. Not my usual read, which is why I chose it. I like to go outside my comfort zone once in a while.
What's next for you as a writer?
I've overextended myself. When I first started writing urban fantasy, I just wanted to see what might work. So I wrote Fallen Angels, but realized that it's not a true urban fantasy because I combine a detective plot with the vampire plot. So I wrote Wolf's Bane–and thought I was going for a straight urban fantasy style, but readers have commented that it's not your typical urban fantasy either. So maybe I don't do typical very well, and that's my problem. Then I wrote Empty Altars and combined my love of Greek and Norse myths with an urban fantasy feel (I hope). But I wasn't sure about any of those, so I started playing around with novellas. Now, I need to focus on two or three things and close out the others, or I'll be spread too thin.
What is your favorite book of all time?
Okay, this sounds lame, but I'd have to say the Harry Potter series. I loved everything about it. And then Pride and Prejudice. How's that for a combination?
Author Websites and Profiles
Judith Post Website
Judith Post Amazon Profile
Judith Post Author Profile on Smashwords
Judith Post's Social Media Links
Goodreads Profile
Facebook Profile
Twitter Account