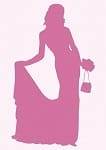 Tell us about yourself and how many books you have written.
I pestered my mother to learn to read and as soon as I read that first book (about Dick and Jane and their dog Spot), I started writing stories. Hopefully, my books are better than those first musings. I've published two books so far. Cry Before Supper is about the power of perseverance and The Dream Catcher is a Christmas story about the importance of dreams.
One thing you definitely must know is that I use a photograph that is about 40 years old. Since I'm on such a shoestring budget, this old photo will have to do until I have funds for someone to draw a caricature. Instead of uploading this old photo for this interview, I'll upload the image I use for my brand, Vintage Elegance.
What is the name of your latest book and what inspired it?
My latest is the 99¢ novella The Dream Catcher, a whimsical tale about how Rupert Rumple discovers the importance of following your dreams. My night dreams inspire my stories. This tale came from imagining a town without Christmas and full of people without dreams.
Do you have any unusual writing habits?
Nothing that I consider unusual. Of course, you may get a different answer if you ask my husband, and another even more exotic answer from my sister. So don't ask them, OK? No, I have no unusual writing habits.
What authors, or books have influenced you?
Current writers who have influenced me are Stephen King (his non-gore books, such as 11/22/63) and Mark Helprin, especially Winter's Tale.
What are you working on now?
I am currently working on a full-length novel whose working title is They Ran Out of Rhyme. That's all I can say about it now. I will be having contests on my website www.juliarosegrey.com for character names, town names, and other such things. Winners will receive a free eBook.
What is your best method or website when it comes to promoting your books?
I haven't struck gold anywhere yet, so I can't answer that question. I'm hoping Awesome Gang will help me out.
Do you have any advice for new authors?
Keep writing. Enjoy the process and focus on writing better. Oh, yes, if you can, try to stay objective and keep your sense of humor.
What is the best advice you have ever heard?
Perseverance is the name of the game. Of course, that advice omits learning to write well. I'm trying to do both.
What are you reading now?
I read constantly, so whatever book I say I'm reading now will be finished by the time people see this interview. I am on Goodreads, so anyone can view what I'm reading there.
What's next for you as a writer?
In all honesty, I really want simply to keep writing. I write situational comedy plays for a local theater group and a blog on writing for a local independent bookstore. I also am part of a writing workshop group and I coach people who are writing books. I don't know specifically what's next, but I will keep writing and learning for as long as possible.
What is your favorite book of all time?
Les Miserables. I've read it twice. (Yes, I've also seen the musical, the movie, and every PBS anniversary special. But I don't have a t-shirt and do so want one. Where do I get one?) Other books are also close to the top of my list: Jane Eyre, Pride and Prejudice, and David Copperfield, just to name a few.
Author Websites and Profiles
Julia Rose Grey Website
Julia Rose Grey Amazon Profile
Julia Rose Grey Author Profile on Smashwords
Julia Rose Grey's Social Media Links
Goodreads Profile
Facebook Profile
Twitter Account
Pinterest Account