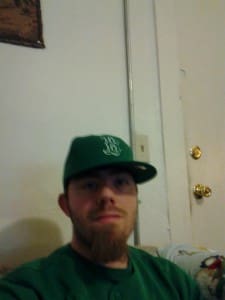 Tell us about yourself and how many books you have written.
I am a an author and poet by day and still the same thing at night. Poetry is my comfort zone but lately I have expanded my writing horizons. When I'm not writing I enjoy watching sports and sometimes playing them if I'm so lucky. I live in Massachusetts and would like to travel the states and country someday.
I have written 2 books so far. My first book was a book of horror poetry entitled "The Macabre Masterpiece: Poems of Horror and Gore" published in 2010. My second book is a western horror entitled "A Bloody Bloody Mess In The Wild Wild West" Its set to be released within the next week or so.
What is the name of your latest book and what inspired it?
My latest book is as I said "A Bloody Bloody Mess In The Wild Wild West". How I was inspired to write it came to be from two aspects. First I had seen a clip of a western movie and out of no where I thought of the title. Then a small idea for a story came together but nothing too major. When I began watching old western shows like Bonanza and The Rifleman my ideas got bigger and soon enough I had an excellent concept for a story and then I began writing it. I think there was a zombie movie in there as well which brought the horror part in there. I started writing here and there and though I hit a snag in the middle I picked up and got even more inspired and came out with a finished western horror.
Do you have any unusual writing habits?
if by unusual you mean stupid mistakes then yes. Sometimes I forget to do simple things when writing like using the wrong words(although I pick up on them after I got over it). As for an unusual writing habit itself sometimes I notice that when I'm writing a blog such as my opinion on something I find myself using the same words but words that aren't normally used, is this because my vocabulary is above average? Heavens no! I guess I just try to be unique and change things up.
What authors, or books have influenced you?
Elmore Leonard was and is a big influence for sure. I read two of his books "Riding the Rap" and "Pronto" which the show Justified is based of off and I loved them. I would say after reading them that that was also what inspired me to want to write a western. Edgar Allan Poe is of course a big inspiration of mine as I consider him to be the Godfather of Horror. Also Rod Serling, I love watching The Twilight Zone and I have even read some of his stories which have inspired elements in some of my works.
What are you working on now?
Right now I am working on getting ready for the release of my second book "A Bloody Bloody Mess In The Wild Wild West". As an author you gotta prepare and while I am totally ready I am also scared even though I've done this once before but I just want to make sure everything goes smoothly and accordingly this time.
What is your best method or website when it comes to promoting your books?
Goodreads. My cousin told me about Goodreads about two months into the release of my first book and at first I was lost then when i caught on I totally fell in love with it. It's such a good way to meet new people, fellow authors and potential readers. There's so much to do, I find Goodreads to be very sufficient.
Do you have any advice for new authors?
When people are down on your work or tell you you can't, push them aside and just keep on writing. Don't be afraid to take a chance and be yourself. If people like your stuff they'll tell you, if they don't they'll tell you too only difference is you don't let those who don't get to you down.
What is the best advice you have ever heard?
Well I can't think of one particular piece of advice I have ever heard but I can think of one outrageous one that sticks out. When I was in 7th grade out teacher told us that if any of us had ADD or ADHD that we should consider taking up boxing when we grow up…yeah don't ask I to this day still get weirded out thinking about it.
What are you reading now?
I am reading a steampunk book from a fellow Goodreads author called "Clockwork & Old Gods Book One: Incursion and a poetry book I won in a giveaway on Goodreads called "From Within".
What's next for you as a writer?
Oh god I don't wanna think about that right now! Haha. If you must know, after my second book I have my third all set and ready to go. It's another book of poetry. It's a book of mixed poetry. I may also write a few short stories as well but we'll see..
What is your favorite book of all time?
The Endlands by Vincent Hobbes and Vlad: The Last Confession by C.C Humpheries.
Author Websites and Profiles
Justin Bienvenue Website
Justin Bienvenue Amazon Profile
Justin Bienvenue's Social Media Links
Goodreads Profile
Facebook Profile