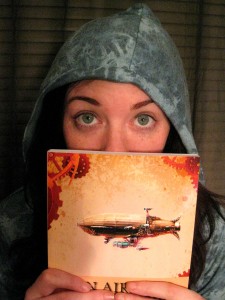 Tell us about yourself and how many books you have written.
I've been writing for as long as I can remember–after all, even in gradeschool when folks asked what I wanted to be when I grew up, I always said a writer. I've written tons of manuscripts, plenty unpublishable while I worked on my craft. An Airship Named Desire was my first novel published, by Hazardous Press in 2012. Since then, Decadent Publishing picked up two of my novellas, By the Sea, which was published earlier in the year, and Poisoned Apple which will be coming out soon. Jupiter Gardens Press picked up my novel, Snatched, earlier in the year, which will also be coming soon.
Not like I can stop there though–I'm always writing. I currently have several manuscripts and novellas in the works or mid-edit and lots of plans. When I'm not working on fiction, my articles can be found on Caffeinecrew.com, a geek news website.
Despite my love for writing, I'm a hobby dabbler and have played around with beer brewing, cupcake baking, soapmaking, and a variety of other crafts. You can usually find me vending at the East Coast convention circuit.
What is the name of your latest book and what inspired it?
My latest book is By the Sea, which was inspired by my love for fae. I've always found the ocean incredibly romantic, and I wanted to explore the type of mythological creatures that are associated with it. Sirens tend to be used more commonly, so I decided to go with selkies–especially, because their history of visiting human women on shore sparked my imagination. For the main character, the story is as much of a love letter to the ocean as it is to Niall.
Do you have any unusual writing habits?
I switch on and off between handwriting and typing, which I guess could be considered unusual. Another weird quirk is that I'm a plotter and I'm not. I don't wait for inspiration to strike when I write, with the exception of the first line. The first line has to come naturally, sometimes even before the characters or story hits me. Once I've got that, everything else unfolds.
What authors, or books have influenced you?
As a kid, I was very influenced by the Chronicles of Narnia and the Prydain Chronicles. I loved adventure stories and anything fantastical. Growing up hasn't changed that all too much for me. Urban fantasy now dominates my sphere, including greats like Ilona Andrews and Jim Butcher. For me foremost, I fall in love with strong characters, so I tend to draw influence from stories where character arcs and transformation is at the forefront.
What are you working on now?
I'm currently working on a rousing pirate sci-fi adventure, involving revenge, betrayal, and a whole lot of swordfighting and gunslinging.
What is your best method or website when it comes to promoting your books?
I tend to use Twitter and Facebook to promote my books, but I've also found that going to conventions helps a lot. I love talking writing with people in person!
Do you have any advice for new authors?
Beta readers and critique partners are the best thing you can do for your work. Seriously, I love to swap manuscripts with other authors. Not only do I get a valuable outsider's perspective, but I also learn a lot from critiquing their work. Once you see what doesn't work in another manuscript, it's that much easier to figure out how to pinpoint the same weaknesses in your own.
What is the best advice you have ever heard?
Maybe not advice, but encouragement. Being a writer is tough and even with the thickest skin, you can still sometimes get down about things. This quote always picks me back up.
"It is not the critic who counts; not the man who points out how the strong man stumbles, or where the doer of deeds could have done them better. The credit belongs to the man who is actually in the arena, whose face is marred by dust and sweat and blood; who strives valiantly; who errs, who comes short again and again, because there is no effort without error and shortcoming; but who does actually strive to do the deeds; who knows great enthusiasms, the great devotions; who spends himself in a worthy cause; who at the best knows in the end the triumph of high achievement, and who at the worst, if he fails, at least fails while daring greatly, so that his place shall never be with those cold and timid souls who neither know victory nor defeat."
― Theodore Roosevelt
What are you reading now?
Just finished reading The Ocean at the End of the Lane by Neil Gaiman. Absolutely riveting.
What's next for you as a writer?
Writing more books, of course. I'm editing a novella and I've got a manuscript in editing too. I've also been tossing around the idea of a sequel for An Airship Named Desire as well…
If you were going to be stranded on a desert island and allowed to take 3 or 4 books with you what books would you bring?
Voyage of the Dawn Treader, Dealing with Dragons, because both of those stories are timeless and lighthearted adventures for when I'm feeling lonely on said desert island. And probably The Fault in Our Stars, to remind me of what life's really about.
Author Websites and Profiles
Katherine McIntyre Website
Katherine McIntyre Amazon Profile
Katherine McIntyre's Social Media Links
Goodreads Profile
Facebook Profile
Twitter Account