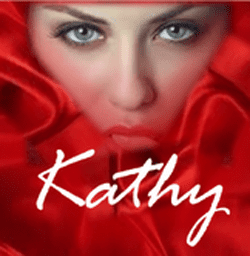 Tell us about yourself and how many books you have written.
After 23 romance novels (published by Harlequin and Dell), I was ready for a change. I spent a few years banging my head against the wall, trying to break into the Hollywood world of insanity as a screenwriter and taught media writing courses for advance level college classes. I realized that most of the books I enjoyed most were YA, so my husband and I decided to join forces and created a YA time travel mystery series. Having the freedom to choose the era, the place and the plot is so much fun. And we love our characters. They are the kind of people I'd like to hang out with every day. I still use Kathy Clark for my romantic suspense novels ("After Midnight" and "Cries in the Night"-release date fall, 2013), but we've chosen the pen name of Bob Kat for our YA and New Adult books which is a combination of our names.
What is the name of your latest book and what inspired it?
"BION" (Believe It Or Not) was just released on August 31st. It's the third book of our CUL8R (See You Later) series. When we created the series, we wanted something current and relevant, so we went with the text lingo that teenagers use every day. The first book "OMG" (Oh My God) introduced the characters and set them off on the path of their first mystery after they discover a little-known, but very real invention of Thomas Edison called "The Telephone to the Dead". Voices from beyond the grave call out for help, and our teenagers must come up with a way to get back to the past to help them. Luckily, there's an app for that. In "OMG", they go back to 1966 to keep a popular cheerleader from committing suicide, but find out she was actually the victim of a serial killer. Book #2 "BRB" (Be Right Back) takes them back to 1980 when they rescue a Cuban family who are living on an island off the Florida Keys. They all barely escape with their lives. "BION" was a change of pace as they go back to 1927 and join a circus to solve the mystery of the disappearance of a farm boy. An unexpected romance complicates matters.
We've been lucky enough to receive several awards for this series, including Best Indie Book of the Year 2013, finalist in the Beverly Hills Book Awards and finalist in the Reader's Favorite Awards with the winner to be announced in September.
Do you have any unusual writing habits?
I am definitely a creature of the night. No, not a vampire, just a person whose creative juices don't start to flow until after dark. I believe in the whole right brain/left brain theory of creativity, and my creative right brain works at night while my critical, detail-oriented left brain works during the day on edits and re-writes.
But I think the most unusual element of our YA series is that my husband and I write it together. He and I develop the plot, make a detailed chapter-by-chapter synopsis. Then he writes the first draft. It's an incredible bonus not to have to start off with that dreaded blank first page. He says he is providing the bones. Then I go in and add the flesh and blood. It might not work for everyone, but it works great for us. He's also doing this with our next big project, a New Adult series called Scandals.
What authors, or books have influenced you?
When I was younger, I read almost every book in my school library that centered around horses and dogs and have become a collector of "Misty of Chincoteague" memorabilia. I was even lucky enough to actually go to a Pony Penning Day a few years ago. If I ever hit the lottery, I want to buy a pair of Misty-heritage ponies and keep the line alive. When I started writing romances, I admired Janet Dailey because her characters weren't wimpy and her plots were interesting, unlike most romances of that era. Currently, my favorite authors are Karen Robards, Linda Castillo, Amanda Hocking, Stephanie Meyer and Sandra Brown.
What are you working on now?
My husband and I, again under the pen name of Bob Kat, are working on Book #4 of the CUL8R series titled RIP (Rest in Peace) that takes place in 1912 at the Stanley Hotel. And we're also working on Book #1 of the Scandals series for New Adults. This one, of course, will be a lot wilder, crazier and hotter than our YA series.
What is your best method or website when it comes to promoting your books?
www.NightWriter93.com for all of our work and www.CUL8Rseries.com for our YA series. We'd love to hear from our fans, especially about places they'd like our time travelers to visit. Our email address is REW7616@gmail.com
Do you have any advice for new authors?
Find your best creative time and work your schedule around so that's when you write. Books are so much better when they don't feel forced. And don't manipulate your characters. If you've done your job well and created multi-dimensional characters, then they should be able to tell you, the author, what they're going to do. Listen to your characters. Don't make them do something they wouldn't do.
What is the best advice you have ever heard?
Don't try to follow the trends; create them. There is no way you can ever catch up to a trend, so try to figure out what's next and get there first.
What are you reading now?
I've jumped into the New Adult market, so I'm checking out several of the more popular authors. I'm really kind of tired of vampires, witches and zombies, so I'm looking for something fresh and character-driven. No more CG!
What's next for you as a writer?
I'm working on my next romantic suspense "Cries in the Night" which is the second book of the Denver After Dark series. It should be released in the late fall. My husband and I are working on the first book of the Scandals New Adult series. It's called "Baby Daddy" and should be released in early fall. "RIP" the fourth book of the CUL8R series should be ready in December or January.
What is your favorite book of all time?
Wow! Tough choice. I never pass up a Carl Hiaasen book, but that's sort of like cheese between wine tastings because his style is so different from mine. Everyone should take a look at his books to see how to truly create memorable characters. Then dial it back about half.
Author Websites and Profiles
Kathy Clark aka Bob Kat Website
Kathy Clark aka Bob Kat Amazon Profile
Kathy Clark aka Bob Kat's Social Media Links
Goodreads Profile
Facebook Profile
Twitter Account
Pinterest Account