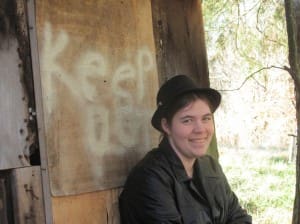 Tell us about yourself and how many books you have written.
I have been writing since I was about fourteen, and decided to turn my childhood fantasy role-playing world into a novel. I turned out about one book a year for six years, and then discovered the wonderful horrible world of editing and quit writing new material almost altogether while I went back and worked on rewriting.
To-date I have yet to finish rewriting any of my early novels; my new work is much better quality I guess. I have published three novellas and a children's book so far, and have plans for many, many more.
What is the name of your latest book and what inspired it?
"Inspector Floyd" is the third novella in the "Supervillain of the Day" series. I got the idea for the series from my inability to write books longer than 40K. I decided to "give up" and just write shorter books. This lead to the idea of "episode" style novellas published on a much tighter schedule than most series; modeled after a typical TV show.
I got the idea to write about supervillains after seeing the spiderman trilogy. After fighting with the sandman, Spidy is emptying out is boots and wondering "Where do these guys come from?" I thought, we have so many superhero series, and each one has a new villain. If there weren't any superheroes the villains would overrun the world!
And so I wrote a series about a world without superheroes, overrun by supervillains.
Do you have any unusual writing habits?
Most of the time I write by hand, in black ink, in college-lined notebooks. I write anywhere, and everywhere. In the car, at doctor's offices; even in church. The downside to this was having to type everything up afterwards, so I did eventually start writing on the computer just to save time.
I have to write in order. I start at the beginning of the book and write through to the end. Sometimes I don't know the ending until I get there. Outlines are a valuable tool, and I have used them for the Supervillain series, but I still love the adventure of discovery that comes from just writing without plans, and seeing where the story takes you.
What authors, or books have influenced you?
Oh goodness, it varies. Quite a bit. When I first got into scifi and short story writing I was heavily influenced by Isaac Asimov. The supervillain series in particular is heavily influenced by Douglas Adams. Joss Whedon is a huge inspiration to me; I can only wish I wrote as well as he does. (Not sure if he counts, though, since he does movies/TV.) The Queen's Thief Series (Megan Whalen Turner) and the Riddlemaster Trilogy (Patricia A McKellip) are both examples of fantasy novels that I draw on heavily when I'm trying to work out character motivations, relationships, and emotion.
What are you working on now?
The rest of the Supervillain series. Book 4 is mostly done, but my season finale is in somewhat a state of disaster. And there are plans to be made for a second season as well; to be announced next month. 😉 I have fond hopes of finishing my science fiction novel "The Justice Project" but it keeps getting shoved to the back burner while I work on books that are actually slated to get published.
What is your best method or website when it comes to promoting your books?
Facebook, actually. That's the one place I've actually got the most response when it comes to promotion. Goodreads Giveaways also seems to be working out very well. As an indie author I'm fairly new to the whole promotion thing, and being a publicist was never on my list of things I wanted to do when I grow up, so I definitely still have a lot of learning to do.
Do you have any advice for new authors?
Just keep writing. No matter what. They say you have to write a million words to truly know what your'e doing, and they're right. (I hit my first million last November.) They also say you have to do something for ten years to be an expert and that is also true.
If you've just started writing and plan to self-publish; don't rush into it. I highly recommend not publishing your first novel. Or even your second. Keep writing for a year or two, and then go back and look at it. Have you improved worlds since then? Then you're not ready yet. Keep writing.
Keep writing, even if what you're coming out with is total crap. Keep writing, even if your family and friends think you're insane. Keep writing even if you're totally discouraged with yourself. If you want to be a writer then keep writing, even if it's a really bad idea.
You're probably crazy, but it doesn't matter.
What is the best advice you have ever heard?
Neil Gaiman's "Make Good Art" speech.
Probably not technically the correct answer to the question; but seriously. All the advice anyone could ever need is summed up in that video. The core of it could be summed up as "Do what you want to do and don't let anyone stop you." Now imagine 20 minutes of that from an expert who took his own advice. Epic.
What are you reading now?
I have a to-read list a mile long, and I'm in the middle of about seven books. Literally right now I'm working on "Mourn Not Your Dead" by Deborah Crombie. It's British crime, so I'm calling it research. I'm also in the middle of "Against Intellectual Monopoly" and "The Statecraft of Machiavelli." Notable books on my to-read-in-the-near-future list are "People of Sparks", "Death of a Salesman," "Forbidden Science," and "Hammer of God."
What is your favorite book of all time?
Ha. Hahahaha. Very funny. Fortuanately for you, I have a list.
#1: The Riddle-master trilogy by Patricia A. McKellip
#2: The Queen's Thief Series by Megan Whalen Turner
#3: The Myst Series by Rand Miller
#4: The Lucky Starr series by Isaac Asimov
And it gets harder to number from there….
Author Websites and Profiles
Katie Lynn Daniels Website
Katie Lynn Daniels Amazon Profile
Katie Lynn Daniels's Social Media Links
Goodreads Profile
Facebook Profile
Twitter Account