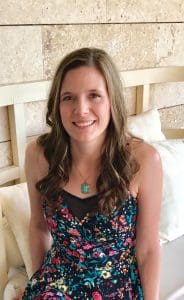 Tell us about yourself and how many books you have written.
I'm a wife and mother currently living in Colorado. I've been writing since I could pick up a pencil and love creating my own world. I have two self-published novellas and two traditionally published novels.
What is the name of your latest book and what inspired it?
I have a two book series recently published called The Mystic Hope Series. The first book is Unbroken Spirit, and the sequel is Love's Sacrifice. I was inspired to write the series because I love fantasy stories and wanted to try my hand at it. While the stories are Paranormal Romance, I consider them more Urban Fantasy as spiritual/otherworldly elements intertwine with the real world. The first book focuses on the tough topic of domestic abuse. The second book deals with good versus evil.
What authors, or books have influenced you?
I read so many types of genres that I pull inspiration from different authors such as: Karen Marie Moning because of my love for fantasy, Jodi Piccoult for her amazing writing talent, and Francine Rivers for her ability to bring Biblical stories to life.
What are you working on now?
I'm not working on anything at the moment as I'm pregnant with our second child and busy raising a three-year old. I have no time or energy to write.
What are you reading now?
Mostly parenting books because three-year-olds are tough!
If you were going to be stranded on a desert island and allowed to take 3 or 4 books with you what books would you bring?
Redeeming Love by Francine Rivers, because it's my favorite love story and I've reread it multiple times, yet it never gets old. Outlander by Diana Gabaldon, because I love the world she creates. Pride and Prejudice by Jane Austen, because I love the movie and have attempted to read the book multiple times, but have never finished it.
Author Websites and Profiles
Kelsey Norman Website
Kelsey Norman Amazon Profile
Kelsey Norman's Social Media Links
Goodreads Profile
Facebook Profile
Twitter Account