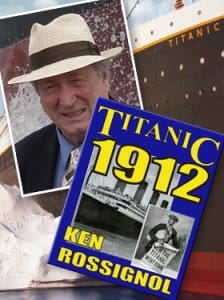 Tell us about yourself and how many books you have written.
I began writing in a serious fashion at the age of 12 when given an old Royal typewriter and began to learn to hunt and peck.
For twenty-two years I published a weekly newspaper in Maryland and sold it in 2010. The newspaper was represented by Levine, Sullivan, Koch & Schultz in winning a landmark First Amendment decision in 2003. The case Rossignol v. Voorhaar was filed in Federal Court following a raid on newsstands on Election eve of 1998 by a state's attorney, sheriff and a posse of deputies which removed all available copies of the newspaper to prevent voters from reading critical articles prior to voting. The case was ruled on by the United States Court of Appeals Fourth Circuit and is published opinion and is the law of the land.
There are presently 18 books and 4 Kindle shorts:
Book Title(s): The Story of The Rag; Leopold & Loeb Killed Bobby Franks; Klan: Killing America; Titanic 1912; Titanic & Lusitania; Chesapeake 1850; The Privateer Clause; Return of the Sea Empress; Follow Titanic; Follow Triangle-Vanish; Cruise Killer; Battle of Solomon's Island; Pirate Trials: Dastardly Deeds & Last Words; Pirate Trials: Hung by the Neck Until Dead; The Chesapeake: Tales & Scales; The Chesapeake: Legends, Yarns & Barnacles; Panama 1914
What is the name of your latest book and what inspired it?
Titanic Poetry, Music & Stories….is a collection of some of my poems and those of 100 years ago, along with the music of the Titanic.
Do you have any unusual writing habits?
Binge writing, up to 10,000 words a day.
What authors, or books have influenced you?
H. L. Mencken, Dashiell Hammett, Edgar Allan Poe, Samuel Clemons, Harper Lee, Taylor Caldwell
What are you working on now?
A new book on how to avoid the dangers present as a cruise passenger.
What is your best method or website when it comes to promoting your books?
Do you have any advice for new authors?
Write like its going out of style.
What is the best advice you have ever heard?
Write what you know.
What are you reading now?
Humble Heroes
What's next for you as a writer?
To finish the three books I am writing.
What is your favorite book of all time?
To Kill A Mockingbird
Author Websites and Profiles
Ken Rossignol Website
Ken Rossignol Amazon Profile