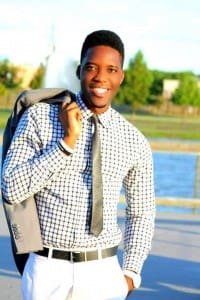 Tell us about yourself and how many books you have written.
Hello, I'm a passionate wordsmith and motivational speaker with a flair for wordplay. I love crafting messages and writing stories that not only entertain but also inform/inspire readers. I've written four books to date, including two novels.
What is the name of your latest book and what inspired it?
My latest book is called Elementals: All That Matters. It was inspired by a writing prompt on Twitter I participated in. We were asked to write the opening line of a book (in 140 characters or less) based on one photo. The book is about two young scientists who journey to the ends of the Earth to find the four Element Keys that will enable mankind to control Mother Nature's four elements.
Do you have any unusual writing habits?
I won't move on from a chapter until it's "perfect" in my eyes. So, I tend to only write on chapter a day. I'm OCD like that. The good thing is, it saves my editor work. Well, good for her.
What authors, or books have influenced you?
Authors like Dean Koontz and Dan Brown have definitely influenced me a great deal. Dean Koontz is arguably the most meticulous writer out there, and I'm a fan of Dan Brown's sophisticated writing style. In terms of books, The Alchemist by Paulo Coelho is one of my all-time favorites. It aligns well with my goal to inspire people with my writing.
What are you working on now?
I'm working on the sequel to my latest novel, Elementals: All That Matters, entitled, 'Elementals: The Antimatter.' This will be a superhero romance with a sci-fi twist.
What is your best method or website when it comes to promoting your books?
I like to use promo sites so my book is always circulating in front of readers. So far, my best results have come from Ereader News Today, Robin Reads, and Book Barbarian.
Do you have any advice for new authors?
Always be creating. Dwelling on the ranking of your debut novel will only cause you undue stress. Keep promoting on effective sites and keep writing more books.
What is the best advice you have ever heard?
Be yourself.
What are you reading now?
Too busy writing now, so nothing, really.
What's next for you as a writer?
I'd like to get my debut novel, 'The One-Eyed King' adapted into a feature film. It's X-Men meets Harry Potter.
If you were going to be stranded on a desert island and allowed to take 3 or 4 books with you what books would you bring?
The Alchemist by Paulo Coelho, The One-Eyed King by moi, The Da Vinci Code by Dan Brown and Things Fall Apart by Chinua Achebe.
Author Websites and Profiles
Kenny S Rich Website
Kenny S Rich Amazon Profile
Kenny S Rich's Social Media Links
Facebook Profile
Twitter Account