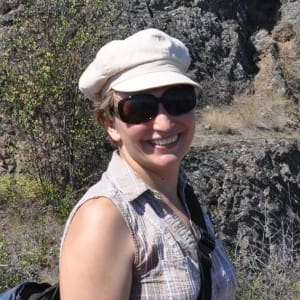 Tell us about yourself and how many books you have written.
Kris Moger was born in Calgary, Alberta, and spent many years trying to live somewhere warmer. She first started writing seriously (as opposed to just keeping stories in her head) when she moved with her family to a children's camp in northern Alberta. (Yes, bad move if you are trying to avoid snow.) Despite having the inspiration of a hundred acres of wilderness and one enchanting graveyard, she and her family moved again and eventually ended up in Kelowna, B.C. This not only led to the desired warmth, but a supportive community of creative people. After publishing a couple of small pieces on the internet, she decided to pursue writing full time. An extensive research into the pros and cons of traditional publishing versus indie publishing led to her decision to publish her stories independently. Currently, she has three young adult, dystopian books out and plans on releasing a new anamorphic fantasy in 2016.
What is the name of your latest book and what inspired it?
My latest book is 'Outside In'–the third book in my Undercity series. The entire series was inspired by working a retail job in a mall. On certain nights, shopping malls are a strange and empty place where the vast amount of stuff surrounding you can seem senseless. While staring out at a vacant hall, I wondered what it would be like if society collapsed and the only place left to live was a shopping mall. After that, I started to wonder who would live there and why they would be trapped in such a place.
When I lived in Calgary, Alberta, sometimes I would go downtown where the buildings are linked together by overhead walkways, and this led to the inspiration of the tunnels of Undercity.
Do you have any unusual writing habits?
My favourite time to write is at night when everyone else is asleep. Often, I will try to go to bed, and all these ideas crowd in, making it difficult to sleep. So, I figure it's either get up and write or toss and turn. As much as I would love to be one of those quill and paper writers like Neil Gaiman, I find writing by hand tedious. I'm not a typewriter writer either though I do have an old typewriter and several quills. They are both romantic ideals that, unfortunately, do not come with a backspace function.
What authors, or books have influenced you?
The first author to influence me was Anne McCaffrey. I loved her dragon series and the world she created. In the last few years, I have decided it would be wonderful to have my own version of Neil Gaiman's life–a successful writer who gets to do all kinds of interesting projects.
What are you working on now?
Currently, I am working on an anamorphic fantasy with a steampunk setting. The story has a wonderful array of characters and a magical element. Here is a bit of a synopsis.
For Aiden Murphy life was ordinary, a sensible journey where adventures only played out in his dreams. But an intriguing encounter with a mysterious stranger turns his dreams into reality and sends him on a journey, which turns his life into a nightmare. In the midst of the chaos, past loyalties fall apart, love alters, and fear becomes anger as suffering pushes Aiden to commit the unthinkable. Can he stop himself in time? Or will he become the monster of his nightmares.
What is your best method or website when it comes to promoting your books?
I promote my books via my website, facebook, and various sites that promote books, but I also advertise through my email list. The first book in my Undercity series is free on Amazon, ibooks, Nook, etc… and in it, is a link to get the second book for free by signing up for my mailing list.
Do you have any advice for new authors?
Keep writing, keep reading, try things, stretch your boundaries–find out what the usual tropes and stereotypes are and strive to write something else. Plus, get your advertising funnels together. Get a website, a facebook page, a twitter account, and a way to build your email list.
What is the best advice you have ever heard?
A writing career isn't built on perfecting a story. It's built on finishing something and getting it out there where people can read it. Write, publish, learn, and write again.
What are you reading now?
Right now, I'm reading the second book in the Miss Peregrine's Home for Peculiar Children.
What's next for you as a writer?
In the next year, I will be finishing a series I started writing years ago called 'Woven Threads', and taking part in a collection of fantasy novellas that is set to come out in October. I also have a short-story/art book collection planned with my daughter, who is a professional artist, called Wishes.
If you were going to be stranded on a desert island and allowed to take 3 or 4 books with you what books would you bring?
How to catch fish. How to survive being on a desert island. Venomous Animals and Poisonous plants. And an empty journal.
Author Websites and Profiles
Kris Moger Website
Kris Moger Amazon Profile
Kris Moger's Social Media Links
Facebook Profile
Twitter Account