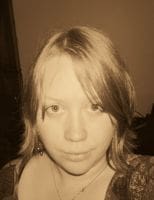 Tell us about yourself and how many books you have written.
In 2012 I published my first fantasy series, Dark Waters. This was released as one huge book, but a year later I decided to release it in three installments and you can now get Harvest, Traitors Day and Flames and Blood from most ebook retailers.
Writing the Dark Waters series took many years and by 2013 I needed a break so I started experimenting with more modern styles and eventually came up with The Running Game, which is a paranormal thriller and will be the first book in a new series.
What is the name of your latest book and what inspired it?
The Running Game came from a variety of ideas and inspirations. Usually when I write I start with the characters and in this instance I started with my two main characters and a plot started to fall around them.
My characters are usually built of so many fragments of thought it is hard to really source them, but I always have a inclination to write strong, realistic women and The Running Game is no exception with the female lead, Rachel Aaron.
The setting around The Running Game has been strongly influenced by my interest in Soviet Russia and Nazi Germany – the idea that one driving force can control and oppress so many people in such a horrific way really fascinates me. Living in Britain we really don't understand how something like the Holocaust or the Gulags could happen and I started thinking what would prompt a modern country to go to such drastic and unpleasant measures to control society and how the British people would cope under such a monstrous regime.
I've explored some of these ideas with The Running Game, where terrorism and poverty have become staples in Britain and a right wing, despotic government are in control. They are intent on eradicating Reachers, a group of people with psychic abilities. Being a Reacher, Rachel is in constant fear of being discovered and the story is really about her survival and what the world is like to her.
Do you have any unusual writing habits?
I have a chair in my lounge that I almost exclusively writing in. The only thing that is slightly out of the ordinary is I have to have either the TV or radio on. I can't sit in silence and write. I hate to write manually and have to type if I'm going to produce anything better than notes for my work.
I very rarely sit a plan out my notes, although with The Running Game, given it is an espionage thriller, I did get to a point where my characters were sat around ready to reveal their master plan and I realised that maybe having one written down first would be a help!
Mostly when I write I struggle with timing so my computer is saved with timetables of character events rather than notes so I can make sure I am on time with everything and running consistently.
Otherwise I just write extra chapters – additional extras to the book to cover the filler that I need to get straight in my head, but that the reader could do without.
Oh and usually there's a one eyed diabetic cat sat on my shoulder while I write.
What authors, or books have influenced you?
I am a massive verging on obsessive fan of John Connolly, I swallow up every book he publishes and this year is a very bad one for me given he is not releasing a Charlie Parker book. I love his empathetic style. He writes horror, but from the perspective of someone who really is horrified by the scenes he has created. Rather than using shock tactics like a lot of authors, he just breaks down in words at the woes of the world and I find his work really amazing.
I'm also a big fan of Scott Lynch and the late David Gemmel who were very influential when writing my Dark Waters series.
I read a lot of work for indie writers as well and it's always inspiring to be among so many talented artists.
What are you working on now?
I am commencing work on the sequel to The Running Game. At the moment I am in the planning stages, which means I am writing some historical chapters and a few pieces that cover the gap between the two books. I have a plot in place and I am itching to start the second book as soon as I can.
I do have a few ideas for progressing the Dark Waters series as well, in fact I did start it back in 2012, but at the moment my attention is firmly fixed on the Reacher series and I am really enjoying expanding this.
I also do lots of beta reading and proofreading work for other authors, so if I'm not writing I'm usually reading.
What is your best method or website when it comes to promoting your books?
I love Goodreads to promote books, but also to meet book enthusiasts.
There are so many do's and don't's in the promotion world sometimes I find it is just easier to be a presence and write wisely.
Facebook is starting to be a useful tool for me, I am signed in to lots of book groups and I get a lot of attention that way, and it's the same with Google+.
However the thing that brings me the most attention is my blog. I advertise a lot of authors through it and because of this I usually get about 800 hits a month. Here I can post my work, thoughts and also other people, which is building my network and allowing my work to spread far and wide.
Do you have any advice for new authors?
Meet as many authors and readers as you can and listen to their opinions carefully. When it comes to marketing, presenting yourself and promotion always listen to other authors, they will have a wealth of knowledge and usually they are very happy to share. When it comes to your work get it beta read by enthusiastic but honest readers. And above all treat everyone you meet as you would want to be treated. If you want help try helping other people first.
What is the best advice you have ever heard?
Don't poke that wasps nest!…. oh did you mean the best writing advice. Okay – Write because you love writing, forget about being a successful author. This was given to me by my boyfriend when promotional work was starting to get me down and it felt that all this self-publishing was more effort than it was worth. This was just before I started writing The Running Game and I probably wouldn't have started it without that push.
What are you reading now?
I am currently reading Scott Lynch's Republic of Thieves. I am a very slow reader, mainly because I don't get time to read a lot outside of beta reading and proofreading. But I always have a book on the go and if I enjoy a book I tend to drag it out for as long as I can.
The Republic of Thieves is the third installment of Scott Lynch's Locke Lamora series and I have been waiting for it for about five years, so I intend to enjoy it for as long as possible, but not too long because I have the third book in the Glass Book of the Dream Eaters series by G W Dahlquist also waiting in the wings – which has been about a four year wait!
What's next for you as a writer?
I'm going to be expanding the Reacher world for a while yet. The series will be at least five books and I will probably do some side stories and short stories to accompany the overall plot. There is a lot to this series and world and I am really enjoying myself writing it.
At some point as well I'd like to try my hand at a children's book and me and my son are batting around ideas at the moment – unfortunately I think Stormtroopers Vs Dinosaurs is going to have all kinds of copyright issues, so we'll have to go back to the drawing board.
If you were going to be stranded on a desert island and allowed to take 3 or 4 books with you what books would you bring?
The first book I would take would be Jonathan Strange and Mr Norrell by Susanna Clark and possibly the short stories she did as well.
I'd also take American Gods, Neil Gaiman, because I've been itching to re-read it.
I've got a book on Rasputin which I borrowed about two years ago and I haven't finished yet so I'd take that.
And probably John Connolly's Black Angel – although I'd try to sneak a few more of his books too.
Author Websites and Profiles
L E Fitzpatrick Website
L E Fitzpatrick Amazon Profile
L E Fitzpatrick Author Profile on Smashwords
L E Fitzpatrick's Social Media Links
Goodreads Profile
Facebook Profile