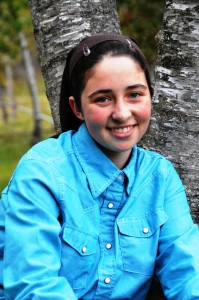 Tell us about yourself and how many books you have written.
I was born and raised a country girl and my books reflect my farming roots.
I have been writing since I was fifteen, my first book was published at age eighteen and I intend to have four books published before I turn twenty.
I currently have three published works. Two are part of a series, one is a stand alone novella with a sequel coming out spring 2016 and I have several more works in progress.
What is the name of your latest book and what inspired it?
My latest book is titled Hidden Treasure and Wedding Bells, book #2 in The Christian Cowgirl Adventure Series.
It follows a young girl, Amy, as she and her friends attempt to solve a hidden treasure mystery and thwart the thieves who are trying to find it first. It is set in the 1920's.
The series was inspired by my love of horses and western stories.
Do you have any unusual writing habits?
I write best at night. I work full time, so I got in the habit of using the evening hours to write and now, even if I have time during the day, I find it hard to focus. So most of my books are written between the hours of 8 pm and 2 am.
What authors, or books have influenced you?
Alicia A. Willis
Alicia G. Ruggieri
Jason McIntire
Faith Blum
J. Grace Pennington
What are you working on now?
My WIP is YA novella titled Be Still My Soul. It is due to release December 2015
Synopsis:
Adah's world is turned upside down by the sudden death of her fiancée. After years of declaring that she will always be single, David broke down her walls and she fell hopelessly in love.
But just three weeks before their wedding, he is killed in a car accident. A happily-ever-after ending becomes a distant dream. Adah is lost without him and she tries to drown her grief in a crazy social life, but finds no peace.
In desperation, she heads off into the mountains, searching for a cure for her broken heart.
Her lack of wilderness experience gets her into many predicaments as she attempts to live life as the pioneers did. No running water, no electricity, a rock slide, an uncooperative wood stove and an unexpected late spring blizzard nearly overwhelm her.
As if that wasn't adventure enough, a nearly frozen man appears on her doorstep in the middle of the raging blizzard. Adah is shocked to discover a young child cradled in his arms.
While the little girl, Sarah, seems unharmed, Adah works desperately to save the man's life. With limited medical knowledge, she does the best she can, but a high fever and other injuries threaten his life.
The man, whose name is Ethan, regains consciousness and seems to be recovering just as the storm abates.
But flooding, mud slides and avalanches force the trio to remain in the cabin for the unforeseeable future.
Adah is disturbed by Ethan's talk of God. Raised to be an Atheist, any talk of religion bothers her. But the more Ethan speaks of his God, the more curious Adah becomes. Something about the relationship Ethan has with his God calls to her. It is more than just a religion. Could God be the answer? Can He heal her broken heart?
Join Adah in her search for the truth. Will she finally find the love she has been searching for all her life?
What is your best method or website when it comes to promoting your books?
I have found Goodreads giveaways to be a very effective marketing tool. Other giveaways and blog tours are also very helpful.
Do you have any advice for new authors?
Don't give up. I well remember how discouraging and exhausting it was trying to write, re-write, edit and finally published my first novel. I was mentally exhausted by the time the process was finished, but I promise, it does get easier! Follow your dream.
What is the best advice you have ever heard?
Don't stop writing and write every day. These have both helped me immensely.
What are you reading now?
In Paths of Righteousness by Keri Aeschliman
What's next for you as a writer?
I am not sure exactly what the Lord has planned for me. My goal is to reach as many people as possible through my stories and I intend to continue writing as many books as I can.
If you were going to be stranded on a desert island and allowed to take 3 or 4 books with you what books would you bring?
From the Dark to the Dawn by Alicia A. Willis
Never by J. Grace Pennington
A Might Fortress by Faith Blum
The Fragrance of Geraniums by Alicia Ruggieri
Author Websites and Profiles
Lauren K. Lotter Website
Lauren K. Lotter Amazon Profile
Lauren K. Lotter's Social Media Links
Goodreads Profile
Pinterest Account