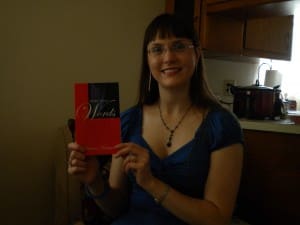 Tell us about yourself and how many books you have written.
Ever since I won two Young Author Awards (1994 and 1997), I knew that I wanted to be a writer. I love sharing stories and personal experiences with others. Perhaps, what I love most is connecting with the reader. I went on to earn my Associates in Arts degree at Southwestern Illinois College and then my Bachelor's of Science in Mass Communications: Print Journalism with a minor in English at Southern Illinois University Edwardsville. While attending SIUE, I won the Outstanding Journalism Student Award in 2006.
I have written two books. My first book is a collection of poetry entitled "More Than Words." In this book, I explore what I like to call the three stages of love: Love Granted, Love Denied and Love Relinquished. Each poem is based off of my personal experiences with love. I feel that using these experiences helps me to better connect with the readers.
I have just completed my first children's book entitled "Priceless Penny." This book showcases the incredible adoption journey of my three-legged dog, Penny.
What is the name of your latest book and what inspired it?
My latest book is entitled "Priceless Penny." This book was inspired by my amazing three-legged dog, Penny. She has a deformed front leg that looks like a short stump with two toes. Penny also has a severe overbite. Sadly, she was abandoned by her previous owners and was found on the streets of California.
Penny then had a one-of-a-kind cross country journey to Springfield, Illinois. My husband and I discovered Penny on Petfinder.com and fell in love. We thought that she would need special care due to the leg deformity, but soon found out that she can jump our pet gate while her other four-legged fur siblings cannot!
I hope that Penny's story will shed light on special needs dogs and empower those living with disabilities to reach for goals that they never thought were possible.
Do you have any unusual writing habits?
I don't know if this would be considered "unusual," but, when I am suffering from a case of writer's block, I simply stop writing. I then will grab my iPod and listen to one of my favorite songs. I find that music helps to clear my mind and puts me in a writing mood.
What authors, or books have influenced you?
I would have to say that my top three writing influences are: Dr. Seuss, Brian Jacques and Judy Schachner.
Dr. Seuss was able to make learning fun through rhyme. He also kept his illustrations simple, yet, I can recall the characters from "Green Eggs and Ham" quite vividly. Plus, his writing style is timeless. I can still recite many of his books by heart.
Brian Jacques was such an amazing writer. He was able to paint such vivid scenes with only words. I remember as I was reading his famous Redwall series that I could close my eyes and actually picture the grand banquet hall and the quaint country charm of Redwall Abby. And the characters that he created are very memorable as well as unique.
Judy Schachner is a newer author. She is the creator of the Skippyjon Jones book series. I simply love these books! Perhaps, this is due to the fact that I own three Chihuahuas and a cat. The Skippyjon Jones books come alive with beautiful pictures and catchy songs. And I love how Skippyjon always uses his imagination to explore the world around him.
What are you working on now?
I just wrapped up writing "Priceless Penny." I am thinking about turning Penny's book into a series. Each book will showcase how Penny is discovering the world around her. My next possible book may be "Penny Meets Miracle," in which Penny learns how to accept Miracle, a kitten that my husband and I rescued from the middle of main street. They are now best friends!
What is your best method or website when it comes to promoting your books?
I prefer to create my own website. This way, I can update the site as often as I like (and I do!). I also like to use social media including: Facebook, twitter, Pintrest, Instagram and Blogspot.
Be sure to check out Penny's official website at: www.pricelesspennyp.com.
Do you have any advice for new authors?
Never give up! My advice may sound corny, but, it is so true. If you feel in your heart that you have a story to tell and you are passionate about that story, pursue it! Do not let anyone else derail you from your dreams.
Also, network, network, network! LinkedIn is an amazing resource.
What is the best advice you have ever heard?
"Don't be afraid to fail." -Jillian Michaels
So many times, we give up on our dreams because we are afraid to fail. We care too much about what other people think. But, failure provides us with a chance to grow. We learn something valuable from each mistake that we make. Instead of fearing the "what could be," we need to keep our focus on our passions and pursue them at full speed!
What are you reading now?
I am currently reading "Arch Enemy" by Frank Beddor. This is the final book in the Looking Glass Wars series. I just can't put it down! There is action and suspense at every turn. And I need to find out if Alyss can save Wonderland once and for all.
What's next for you as a writer?
I would love to be able to write a series of children's books based upon my three-legged dog, Penny.
What is your favorite book of all time?
My favorite book of all time is "Martin the Warrior" by Brian Jacques. I believe that this was truly Jacques' best novel. This book follows the birth of Martin, a mere slave mouse. Through his courage, bravery and wisdom, Martin rises to become the beloved hero and champion of Redwall Abby.
I found all of the characters to be extremely relatable. I bonded with Martin from the first chapter and found myself cheering him on. I also love the fact that while the book is packed with action, the violence is kept to a minimum. Martin does not simply annihilate anyone in his path. He always tries to reason with the enemy and change their heart. Death is saved for only the cruelest of villains and typically comes at the very end of the novel.
Author Websites and Profiles
Lauren Kramer-Theuerkauf Website
Lauren Kramer-Theuerkauf Amazon Profile
Lauren Kramer-Theuerkauf's Social Media Links
Goodreads Profile
Facebook Profile
Twitter Account
Pinterest Account