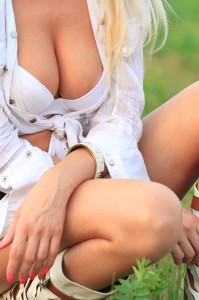 Tell us about yourself and how many books you have written.
I live just outside of Grand Blanc, Mi. I write erotic romance, and have 8 books to date on amazon between two series. I'm starting a 3rd series I'm thinking of calling "The Contract".
What folks don't know about me, is I'm a small scale/urban farmer and work at a stall at the Farmer's Market.
What is the name of your latest book and what inspired it?
"The Contract"
Heather is a young, brilliant lawyer, a stunning beauty with money, so why does her husband cheat on her?
Sick of her husband's infidelities, Suzanne makes her husband sign a contract to save their marriage. David reluctantly agrees, and finds the fine print surprising. Not only does he have to join a health club, he has to cater to his wife's every whim or he will lose everything.
The chain of events Suzanne sets in motion will challenge Brian's own thoughts of his sexuality.
Do you have any unusual writing habits?
My best hours to write are while Paw Patrol are on Nick!
What authors, or books have influenced you?
Penelope Syn, Stephen King, Joe Nobody, Russel Blake, SM Reine
What are you working on now?
The Contract
What is your best method or website when it comes to promoting your books?
I am still trying to figure this one out. Since it's erotic romance between 10-15k worth of words, I am exploring options.
Do you have any advice for new authors?
Keep reading and writing! It's as simple as that, and if you get stuck, there are several prominent Indie Authors on kboards.com that have threads spelling out how they achieved success.
What is the best advice you have ever heard?
keep writing
What are you reading now?
The Amorous Adventures of Lucy Jenkins by Stephanie K Johnson
What's next for you as a writer?
Keep writing!
If you were going to be stranded on a desert island and allowed to take 3 or 4 books with you what books would you bring?
The Stand by Stephen King, Light's Out, Break in Two by MJ Summers & anything by Clive Cussler so I can escape 🙂
Author Websites and Profiles
Lee Moore Website
Lee Moore Amazon Profile
Lee Moore's Social Media Links
Goodreads Profile
Facebook Profile