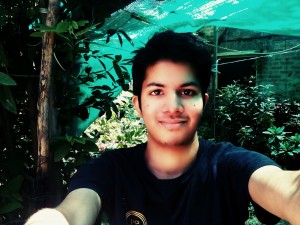 Tell us about yourself and how many books you have written.
Thousand Sinful Kisses is my debut novel – my first full-length complete work. But of course, I was crazy about writing from my school days. I was the editor and writer of two Christian magazines, which I used to locally distribute.
What is the name of your latest book and what inspired it?
My debut work is a Paranormal romance called Thousand Sinful Kisses. It's story about romance that's dark and forbidden – but yet unusually powerful and pure. I was inspired to write this book while watching the World Cup in 2011 – when I heard a wonderful piece of music and right there, the climax scene of this story flashed in front of my eyes. So, music really started it all for me. Haha.
Do you have any unusual writing habits?
Many. I'm one of those weird dorks who seem to the outside world they're cool – but are writing freaks on the inside. I maintain a digital journal, I occasionally give tributes to all my loved ones (really weird) and I'd be lying if I say I don't like to write blogs. I blog mostly about my current work, which is kinda important to me. I like writing which makes you feel its real and at the same time give you this strange realization that you yourself have written it down. That'd be some really cool writing.
What authors, or books have influenced you?
I'm influenced mostly by books. I'm all for content. So, as far as I know, Thomas Hardy, John Green, Khalid Hosseini and Stephenie Meyer.
What are you working on now?
I'm currently drowned in writing work. I'm getting ready to start writing the sequel to Thousand Sinful Kisses. Along with that, I'll be "trying" to finalize another draft with my editor for a probable release in 2017.
What is your best method or website when it comes to promoting your books?
I haven't got much (or any for that matter !) experience in eBook promotion but I'm really stoked by the exposure of social networks… And author interviews…
I mean I for one wasn't really expecting an exposure to such an extent.
Do you have any advice for new authors?
Your material is your trophy. You've already accomplished by writing something. Work hard. Work harder. Just believe beyond your capabilities.
What is the best advice you have ever heard?
Go for it.
From my mom. Haha.
What are you reading now?
Honestly, I'm hardly able to sit and chill it out – like all my friends hang out on weekends. I'm not reading. But I'd love to know if you recommend any great read.
What's next for you as a writer?
This year, I decided to be blank about my prospects in future. Just sweat it out, study, write – whatever happens – happens. I believe my work will be loved, and that's gonna show my future.
If you were going to be stranded on a desert island and allowed to take 3 or 4 books with you what books would you bring?
Avengers comic book. Even if I was stranded on Mars, I wouldn't have asked any other. Next, I would take a survival guide book… But one which also could help me have a rad time out there! I'd take a copy of The Kite Runner and Mockingjay.
Lastly, I'd grab my rotten copy of Fault in our Stars, because desert or no desert, stranded or not stranded, I'm a hopeless romantic.
Author Websites and Profiles
Liam Levi Amazon Profile
Liam Levi's Social Media Links
Goodreads Profile
Facebook Profile
Twitter Account