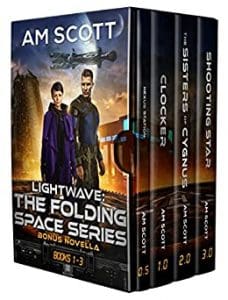 About Lightwave: Folding Space Series Books 0.5 through 3.0 by AM Scott
The complete seven-book classic space opera series is ready for binge-reading! This set includes Books 1.0 through 3.0, plus the prequel novella Book 0.5, Lightwave: Nexus Station. Just $0.99 Sept 11-26 2021!
Saree's got a secret. A truly unique talent.
Trillions rely on her rare gift. If they knew, they'd betray her in a heartbeat for the huge reward.
Despite Saree's best efforts, rumors fly. Desperate, she jumps on Lightwave Fold Transport just ahead of a bounty hunter.
But Lightwave might not be safer.
Lightwave's crew were mercenaries. Mercenaries who destroyed her childhood home. Saree barely escaped last time. Will they recognize her?
Worse, will they discover who she really is?
Discover Saree's secret today.
Buy the book, and follow the author on social media:
Learn more about the writer. Visit the Author's Website.
Buy the Book On Amazon.
Like the Authors Facebook Fan Page.
Follow On Twitter.
Follow On Instagram.

Author Bio:
After twenty years as a US Air Force space operations officer, AM now operates a laptop, trading in real satellites for fictional spaceships. Sign up for the Scott Space Newsletter and get a free novella, Lightwave: Nexus Station, the exciting prequel to the seven-book Folding Space Series, complete and available now. https://www.amscottwrites.com/lightwave-nexus-station-free/
Book 1 through 3 of the new Quantum Fold Series are on sale now—check out the adventures of Quinn of Cygnus!
AM's writing cave is deep in the mountains of western Montana; there are lots of pictures on Instagram. AM is also a volunteer leader with Team Rubicon Disaster Response.
Email: am@amscottwrites.com
I love to hear from readers!