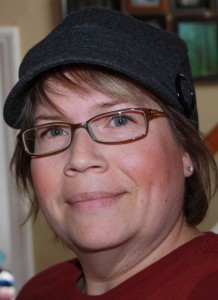 Tell us about yourself and how many books you have written.
I'm a bit of an adrenaline junkie. I've bungy jumped off a bridge in New Zealand and climbed down the side of a 17 storey building for charity. Putting myself out there as a published author is a new form of adrenaline rush. I've just recently published my first book, Dead and Kicking. It's the first book in the Harry Russo Diaries, an urban fantasy trilogy about a twenty-something witch whose out of the ordinary gift gets her tangled up in the darker side of the supernatural underworld.
What is the name of your latest book and what inspired it?
My latest book is Dead and Kicking. I really couldn't tell you what inspired it. My mind is always whirring away creating new stories. Sometimes they bubble to the surface and just need to get out. Harry, the heroine of my story, was particularly persistent and I finally relented and sat down at the computer. The next thing I knew I had all three books written (okay, so it wasn't that easy, but they really did all just sort of flow out one after another).
Do you have any unusual writing habits?
I work full time and I'm a full time, single parent. I grab time to write whenever and wherever I can. I have been known to dictate ideas that pop into my head into my phone in the middle of the grocery store and at doctor's offices. Luckily, I tend to be a night owl and I'm most productive then. I get most of my writing done after 9pm. Unfortunately that means that I'm often up waaaay too late because I'm 'in the zone' and don't realize the time.
What authors, or books have influenced you?
I'd have to say that Kim Harrison, Chloe Neill, Keri Arthur, L.K. Hamilton and K.M. Moning (the Fever series) are big influences. I love their stuff.
What are you working on now?
Right now I am working on the final edits for Tooth and Claw, the second book in the Harry Russo Diaries. It will be released in January 2016. Then it will be on to finalize the manuscript for Deadlocked, the final book in Harry's trilogy. I also have a contemporary 'romantica' called Home Again that I will be publishing early in 2016.
What is your best method or website when it comes to promoting your books?
I think Goodreads is a great place to start, but other than that, I'm just learning the ropes of the marketing side, so I don't really have a lot of insight yet.
Do you have any advice for new authors?
Write your second book before you try publishing your first. Seriously. It's crazy trying to promote and market your new release. I've had no time to write lately. I'm really glad I already have Harry's trilogy completed. It takes some of the pressure off.
What is the best advice you have ever heard?
Just keep writing. Publishing a book is a long game. The more you write and publish, the more likely you are to sell books.
What are you reading now?
Reading? I wish. I haven't had time to do any reading for pleasure. I have a stack of books waiting though….Wen Spencer's Wood Sprites is on the top of that stack. Wicked Embers by Keri Arthur and the latest J.D. Robb are also waiting for me.
What's next for you as a writer?
I really hope to find the time to start on a new project. I have a couple in mind. It really depends on which story is ready to be told.
If you were going to be stranded on a desert island and allowed to take 3 or 4 books with you what books would you bring?
Wow, that's a tough one. Can I just take my Kobo ereader and a solar panel instead?
Author Websites and Profiles
Lisa Emme Website
Lisa Emme Amazon Profile
Lisa Emme's Social Media Links
Goodreads Profile
Facebook Profile
Twitter Account