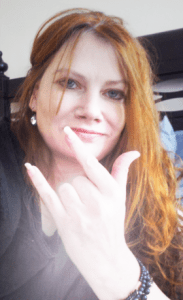 Tell us about yourself and how many books you have written.
I'm a wife and mother first and foremost. My husband is my rock star. My son, the light of my life and a budding rock star. Music is a passion. I believe that as strongly as the words of any book, the lyrics of music tell a story that emotionally pulls the listener in. That's why I love writing about musicians and the life of. I've written around a dozen books, and so far, three have been published. The Silver Strings Series when complete, will have a trilogy set for each string on a normally tuned guitar. So far, the G-String Set is complete and published. Jack Who?, Weathering Jack Storm, and Snow Storms.
What is the name of your latest book and what inspired it?
The latest novel is Snow Storms, which is number three in the Silver Strings Series. This book, like all others in the set, are inspired by the behind the scenes of the song lyrics and tunes that we love. But behind the lyrics, the tunes, and the rock star envy are musicians living complicated lives. This complexity affects their perception of themselves, their relationships. I love bringing these relationships to light in a fictional way.
Do you have any unusual writing habits?
When experiencing total writers block I take a couple of shots of any alcohol handy. Normally, I'm not a drinker–got that out of my system in my 20's! But, alcohol does get the juices flowing. Often though, the next morning, I'm editing out half of what I wrote, but the other half is golden!
What authors, or books have influenced you?
This is a hard one because I did not have time to read for so long before I began writing myself. But back when I did read, I loved Janet Daily, Judith McNaught, Sandra Brown, Kay Hooper, so many more. These days when I have time to read, I enjoy rock star romances–which I did not even know existed until publishing my own!
What are you working on now?
The D-String Trilogy Set. It spans a decade in the 70's, so the research has been extensive. It has been interesting in a way I never expected. Somehow, the surfing culture, the emerging glam rock scene, the politics at the time are weaving together into what I hope is a fascinating read.
What is your best method or website when it comes to promoting your books?
Twitter and Facebook. Twitter is one I never would have believed, but it has come through again and again. Fans of the books have been wonderful with shares and word of mouth.
Do you have any advice for new authors?
If self publishing, get a proofreader! I trusted in my own abilities, and this was disastrous. No matter how good you are at proofing others works, you just can't do your own. Also, write for those who love your work and ignore those who don't. Publishing can be a cutthroat experience, which I will never understand why. Let your fans and author friends keep you smiling. Realize for every bad rating there is a good one. Because there will be if you are writing to the best of your abilities.
What is the best advice you have ever heard?
Write for those who love your work and ignore those who don't. Jade C. Jamison has a blog post that I love in which she mentions that with her debut rock star romance, she had as many haters as lovers of the book. She mentions to focus on those who love your work, and she is right.
What are you reading now?
The Casquette Girls by Alys Arden
What's next for you as a writer?
I will keep going through this series until complete. Also, I have a project that I'm really excited about, involves a band that is not fictional. But more on that soon!
If you were going to be stranded on a desert island and allowed to take 3 or 4 books with you what books would you bring?
Oh geeze. 3 of my own? Not because I am narcissistic, but because I am never happy unless I am editing and tweaking every paragraph until it is perfect. I love writing so much more than reading these days!
Author Websites and Profiles
Lisa Gillis Website
Lisa Gillis Amazon Profile
Lisa Gillis Author Profile on Smashwords
Lisa Gillis's Social Media Links
Goodreads Profile
Facebook Profile
Twitter Account
Pinterest Account