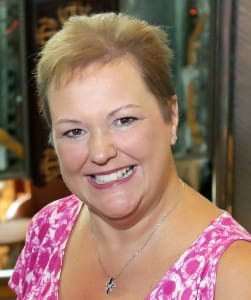 Tell us about yourself and how many books you have written.
I live in Louisville, KY with my husband and our adopted cat, Grady.
My favorite thing to do is travel and so far I've visited all 50 states in the USA as well as somewhere between 55 and 58 other countries with a big trip coming up in five moths that will add 7 more countries to my list.
So far, I have written four books, but my fifth book is coming out in just a couple of months!
What is the name of your latest book and what inspired it?
My newest book title is, "OH SHIP!" with the subtitle "Tales of a Cruising Chick and Other Travel Adventures" and is full of funny and silly stories of things that have happened on cruise ships and during my other travels.
Do you have any unusual writing habits?
I have no habits, that's my problem. No routine!
What authors, or books have influenced you?
So many books, so little time . . .
A big "Aha" moment happened when I met author Liz Curtis Higgs and her books have greatly influenced my life.
What are you working on now?
Another book in a completely different genre, still too soon to know what it's going to be when it grows up.
What is your best method or website when it comes to promoting your books?
In-person public speaking is by far the best method, but in terms of online social media, Twitter has driven the most traffic to book sales for me.
Do you have any advice for new authors?
Just do it. Write the book you've been thinking about. Quit trying to make it perfect. Quit trying to get everybody's input and advice.
What is the best advice you have ever heard?
About writing? The worst book is the one not written.
What are you reading now?
You caught me! I've been too busy but have three Ted Dekker books sitting on the shelf crying out for me to read them.
What's next for you as a writer?
More books and branching out into more genres.
If you were going to be stranded on a desert island and allowed to take 3 or 4 books with you what books would you bring?
The bible.
Author Websites and Profiles
Lori Moore Website
Lori Moore Amazon Profile
Lori Moore's Social Media Links
Facebook Profile
Twitter Account
Pinterest Account